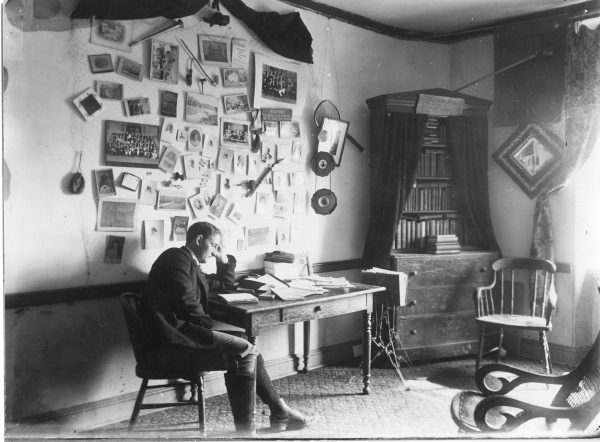 Thank you for your interest in donating materials to the Historical Society of Princeton!
Donations from individuals and organizations form a vital part of our collection and help us fulfill our mission of interpreting Princeton's history.
How to Donate
HSP primarily collects items that document the history of the Princeton area or its role in state or national history. If you have material that you believe would add to our collection, please contact Stephanie Schwartz at stephanie@princetonhistory.org or by calling 609-921-6748 x103.
If we are interested in accepting your donation, we will present your materials to our Collection Committee for review. The process can take one to three months. If we decide not to accept your offer, staff will be happy to suggest repositories that might be better suited.
Frequently Asked Questions
CAN I MAIL OR DROP OFF A DONATION?
HSP cannot accept unsolicited donations by mail or in person and reserves the right to dispose of items received in this manner.
IF I DONATE MATERIALS TO HSP, WILL THEY BE RETURNED TO ME AT MY REQUEST?
Items that have been formally accessioned into HSP's collection cannot be returned to the donor. Upon approval by the Collections Committee, donors are asked to sign a Deed of Gift, which legally transfers ownership of the item, as well as any associated rights, to HSP.
DOES HSP ACCEPT LOANS?
HSP only accepts short-term loans for exhibition purposes. We do not accept long-term loans for storage purposes.
CAN HSP APPRAISE MY DONATION FOR MONETARY VALUE?
For ethical reasons and as a matter of policy, HSP does not appraise or authenticate objects. You can seek an appraisal professional in your area through the American Society of Appraisers or the Appraisers Association of America.
CAN I RECEIVE A TAX DEDUCTION FOR MY DONATION?
Donations accepted by HSP are generally tax-deductible as noncash charitable contributions. In most cases, a professional appraisal of the donated item will be necessary to receive a tax deduction.