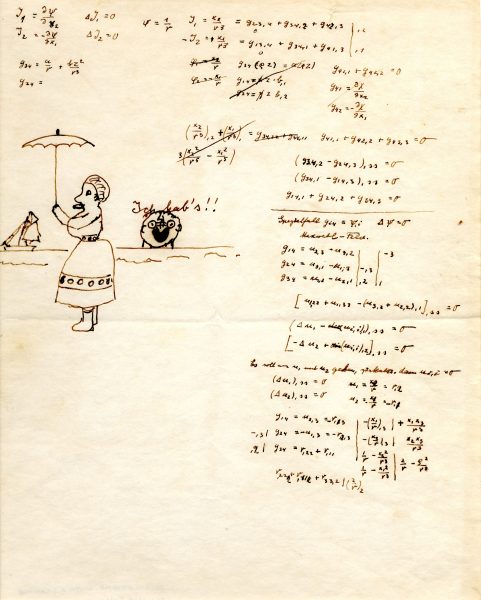 Permanently on view on the first floor of the farmhouse at the Updike Farmstead, the Einstein Salon and Innovators Gallery celebrates the worldly and entrepreneurial spirit of the citizens of Princeton. Albert Einstein, renowned scientist and thinker, anchors the gallery, while changing displays highlight others from the galaxy of Princeton stars.
Einstein Salon
Photographs, documents, and other interpretive material contextualize the captivating highlight pieces from the Einstein furniture collection, painting a fascinating and comprehensive picture of Einstein's time in Princeton from 1933 to 1955. Visitors can expect an intimate and up-close encounter with furniture from Einstein's home at 112 Mercer Street, including Einstein's writing desk – complete with ink spill – situated with Einstein's favorite chair. The furniture provides a tangible link to an extraordinary man and his journey out of an unsafe Europe.
Innovators Gallery
The gallery also explores featured innovator John von Neumann, the Hungarian-born mathematician who led the team that pioneered one of the first modern, stored-program electronic digital computers – initially dubbed "MANIAC" – at the Institute for Advanced Study in Princeton. Visitors will come to understand von Neumann's involvement in the Manhattan Project and see his ID card for the Los Alamos assembly plant. Visitors will also be able to view materials about the development of the MANIAC computer from the Shelby White and Leon Levy Archives Center at the Institute for Advanced Study.
Come and be inspired by the pioneers who put Princeton on the map as the frontier for new ideas!