Private Walking Tours
Princeton History Walking Tours are the perfect complementary activity for Corporate Events, meetings and family outings. Whether you are seeking an outside recreational or "team building" activity for conference participants, or you are seeking a "spouses event," our Princeton History Walking Tours give visitors an educational and entertaining look at Princeton's people, architecture and history. Programs can be adapted to meet the needs and timing of your group. Groups larger than 25 will be divided between two tour guides.
When: Available by appointment; arrangements should be made at least two weeks in advance.
Where: Tours start outside Art@Bainbridge, 158 Nassau Street, Princeton. Alternative start locations can be arranged.
Cost: $10 per person; minimum charge of $100 per tour.
Contact: Eve Mandel at 609.921.6748 x102 or eve@princetonhistory.org
"The tours were a big hit, and both groups had a very enjoyable experience. I would highly recommend the Historical Society of Princeton to other groups and organizations that want to plan a group tour of the Princeton area."
– Lynda Brady, Tour Co-Chair, 2015 Quester International Convention
Princeton History Walking Tour
Enjoy a walk around downtown Princeton and the University campus as you learn about historic sites in the area, including Bainbridge House, Nassau Hall, the University Chapel and Palmer Square. The early history of Princeton, the founding of the University and the American Revolution are just some of the stories from Princeton's history that you will hear on your tour. (Tour length is 1.5 to 2 hours, customizable to group's schedule.)
The Albert E. Hinds Memorial Walking Tour: African American Life in Princeton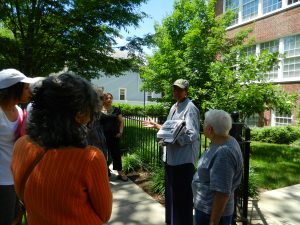 Experience a one of a kind tour of the historic Witherspoon-Jackson neighborhood that gives you the history below Nassau Street. Learn about the "Princeton Plan" that desegregated schools at the site of the Witherspoon Street School for Colored Children; hear about the life of Paul Robeson at his birthplace; and visit Birch Avenue, where many houses were moved when the establishment of Palmer Square demolished much of the historic Black neighborhood across from the University.
Digital Version now available! Visit http://www.princetonhistory.org/tour/index.html to access a digital version of the Albert E. Hinds Memorial Walking Tour: African American Life in Princeton. Developed and narrated by Shirley Satterfield, a resident of the community and member of the first integrated class at Nassau School. HSP received a project grant from the New Jersey Historical Commission, a division of the Department of State, to support this project. For more details, click here.
Princeton University Architecture Tour
This tour explores the phenomenal architecture on campus, dating from 1756 to the present. Buildings on this two mile walk include the Georgian style of Nassau Hall, collegiate gothic marvels, and extraordinary contemporary designs, including the Frank Gehry-designed Lewis Library, the Stadium, the Icahn Laboratory, and the brand-new Princeton Neuroscience Institute/Psychology facility.
Updike Farmstead Tour
Enjoy a private tour of the grounds and galleries at HSP's beautiful Updike Farmstead, in the heart of the historic Princeton Battlefield/Stony Brook Settlement Historic District. The Farmstead is along the route followed by Continental troops on their way to engage British soldiers at the neighboring Thomas Clarke farm at Princeton Battlefield. The restored late 18th/early 19th century farmhouse contains galleries dedicated to art and history, and the property includes several outbuildings, a restored windmill and garden. Programs run one hour and are limited to 25.
When: Available by appointment; arrangements should be made at least one month in advance.
Cost: $8 per person; minimum charge of $80 per tour.
Contact: Eve Mandel at 609.921.6748 x102 or eve@princetonhistory.org
Updike Farmstead is at 354 Quaker Road, Princeton.
Outreach
Bring our program to you! Presentations run 45-60 minutes and cost $100.
Click here for program descriptions and booking details. 
Topics include:
New Jersey Facts and Firsts
The Life of Albert Einstein
Princeton: Then and Now
Princeton and the American Revolution
The Battle of Brooklyn
Princeton Cemetery