We have resumed our tours of Historic Stony Brook and Princeton University's Eating Clubs (see below).
Private tours of town and campus are available by request for groups up to 15 participants ($10 per person, $100 minimum). At this time, tours can be scheduled for weekdays, between 10 AM and 1 PM. To schedule a private tour, email eve@princetonhistory.org.
Sunday walking tours are still on hiatus – please check back for updates.
For a list of at-home resources, visit our History@Home page.
Princeton History Sunday Tour
"We have lived here for nearly 17 years and are familiar with the town and campus. This is the first time we took the tour and wished we had taken it earlier since we learned a fair amount of new information and factoids. (Our guide) was informative and entertaining … Thanks for offering a great resource for the community." – S. A.
Enjoy a 2-mile walk around downtown Princeton and the University campus as you learn about historic sites in the area, including Bainbridge House, Nassau Hall, the University Chapel and Palmer Square. The early history of Princeton, the founding of the University and the American Revolution are just some of the stories from Princeton's history that you will learn on your tour.
Tours start outside Art@Bainbridge, 158 Nassau St. Tickets are $10.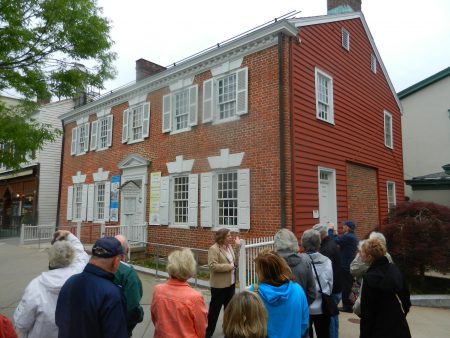 Advance purchase is recommended, as space is limited. Walk up ticket sales are cash only; guides cannot provide change.

Portions of the tour include stairs and hills, please notify guide of any accessibility needs.
Tour length: April-October, tours run approximately 2.5 hours. Tours are shortened to 90 minutes November-March, to accommodate for colder temperatures and shorter daylight hours.
Tours are held in light rain; in the event of severe inclement weather, click here for an update on HSP's calendar of events, or visit our Facebook page.
PARKING: As of November 5, 2018, new parking meters have been installed around Princeton. Meters are now enforced 7 days a week. Click here for more information. Free parking is available on weekends in Princeton University's numbered lots. Lot 10, on William Street, is closest to the start of the Sunday walking tour.
Tickets
Stony Brook Walking Tour on October 23, 2021, 10:00 am - 12:30 pm
Click to buy tickets or view more dates.
Themed History Walks
Historic Stony Brook: Gateway to Princeton History
Before there was a "Princeton," six Quaker families established a community on the fertile ground along Stony Brook. This two-hour hike explores the lives of the early settlers and the community they established, while following a portion of the trail George Washington took from Trenton to the Princeton Battlefield. Stops include the Stony Brook Meeting House and Burial Ground, walking a portion of the "hidden" back road into Princeton, and a view of the Battlefield.
Tour starts at 354 Quaker Road, Princeton.
Tickets are currently sold out. Please check back for new dates.
Princeton University Eating Clubs
Join author Clifford Zink on a walking tour of Princeton University's majestic eating clubs. Learn about the architecture, origins, and development of the sixteen Classical and Gothic-style clubhouses, which date from 1895 to 1928. Participants will also have the unique opportunity to tour the inside of three clubs.
Tour starts outside Colonial Club, 40 Prospect Avenue, Princeton.
Copies of Zink's 2017 book, The Princeton Eating Clubs, will be available for sale at a discounted price at the tour.
Co-sponsored by Princeton Prospect Foundation and the Historical Society of Princeton.
Tickets are available for the following date: November 13
In Her Footsteps: How Women Shaped Princeton
Wiebke Martens and Jennifer Jang, authors of Discovering Princeton, have developed a brand new tour dedicated to the contributions of women in the community. The walk includes an overview of Princeton's history and focuses on some of the women who have helped make Princeton – both town and its namesake University – what it is today. Stops include the new Betsey Stockton Garden, Alexander Hall, and Dorothea's House.
Tour starts outside Art@Bainbridge, 158 Nassau Street, Princeton.
Please check back for available dates.
Princeton U. Architecture Tour
This popular tour explores the phenomenal architecture on campus, dating from 1756 to the present. Buildings on this two-mile walk include the Georgian-style Nassau Hall, collegiate gothic marvels, and extraordinary contemporary designs, including the Frank Gehry-designed Lewis Library, the Stadium, the Icahn Laboratory, and the brand-new Princeton Neuroscience Institute/Psychology facility.
Tour starts at Palmer Square's Tiger Park.

Please check back for available dates.
Digital Tours
Experience the Historical Society of Princeton's local history walking tours digitally – anytime, anywhere!
Explore some of Princeton's most notable – and more hidden – places, with the help of an audio guide and unique material from HSP's extensive collections.
Download the free HSP app from the iTunes store or Google Play store.
Don't have a smart phone? Click the links below to access our digital tours on the web.