The Historical Society of Princeton sponsors several lecture and panel events throughout the year, as part of the Lewis B. Cuyler Annual Meeting Lecture Program, the Speaking of History series, and others. Check back often for ways you can learn from and engage in conversation with local scholars of history!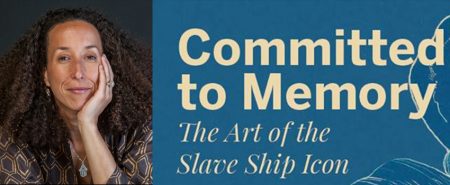 October 16, 2019
Dr. Cheryl Finley of Cornell University returns to Princeton to share her extraordinary work and book Committed to Memory: The Art of the Slave Ship Icon. The day's events provide an opportunity to engage in meaningful conversations surrounding the 400th anniversary of the first documentation of enslaved Africans having landed in North America.
Dr. Finley will be providing an illustrated lecture and Q&A at 2:00 PM and 6:30 PM. Both programs take place at Morven Museum and Garden.
For more information and to register, click here.
Co-sponsored by the Historical Society of Princeton and Morven Museum and Garden.
Speaking of History
This event series aims to foster civil dialogue around contemporary issues that beg a historical context and perspective.
Past Events:
August 8, 2019: "Green Oval" Digital Tour
April 1, 2019: What is Oral History?
March 12, 2019: Project Apollo: Origins, Missions, and the Legacy
February 9, 2019: The Garden State: Where Ideas Grow
October 18, 2018: Princeton Plan Panel Discussion
September 12, 2017: Memory and History: The Meaning and Future of Monuments in the Aftermath of Charlottesville