Pi Day Princeton Events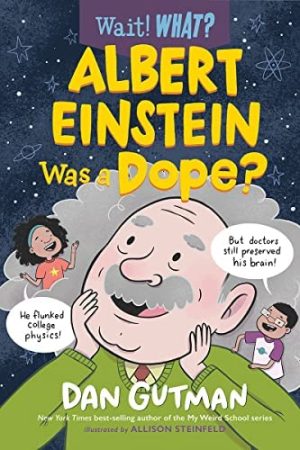 March 11, 2023
1:30-4:30 p.m.
1:30: Author Dan Gutman will lead a virtual talk about his recent Albert Einstein biography for kids. In the second of the Wait! What? series, siblings Paige and Turner compete to dig up the weirdest, wackiest, and funniest facts about the world-famous scientist, from his childhood and school days through his time studying relativity and working on the atomic bomb. In addition, Dan will answer questions and even give away prizes to a few lucky participants!
This is a hybrid event – join us from home or in the Community Room of the Princeton Public Library. Registration will go live closer to the event.
2:30-4:30: Learn fun facts about Albert Einstein and take part in hands-on activities including Pi-themed puzzles and crafts, as well as math and STEM challenges at this Pi Day Princeton drop-in event.
On view from the Historical Society's collection will be a selection of artifacts that belonged to Einstein himself. Additional stations to visit include "House of Cards," a contest to see who can build the tallest house using playing card, and "Ask a Physicist."
Presented in partnership with the Princeton Public Library.

Building Princeton
April 23, 2023
3:00-5:00 p.m.
The 5th annual family event will be held in the Wojciechowicz Barn at Updike Farmstead. Teams will build LEGO versions of historic Princeton structures with 70,000 available LEGO bricks.
Check back for more details and to register!
Building Princeton is recommended for 8-12 year-olds, but all ages are encouraged to participate. An Architectural Heritage Community program presented with Building Blocks Workshops.
Vintage Base Ball Game

June 24, 2023 at 11:00 a.m.
Location: Greenway Meadows Park, 275 Rosedale Road

Experience the history of America's favorite pastime at our annual event for the whole family! Part game, part show, part history lesson and ALL fun, the Flemington Neshanock and the New Brunswick Liberty will play a competitive match of bare-handed baseball, wearing period uniforms and using 1864 rules.
Spectators are invited to take batting practice using authentic replicas of 19th Century equipment.
Free; registration is not required. Bring a blanket or lawn chair – stop by for an inning or stay for the whole game!