CICLOVIA
Sunday, May 6

Due to the expected muddy trail conditions, this year's Chasing George ride has been cancelled. "George Washington" will be at Ciclovia, riding his bike along Quaker Road, sharing the story of the Battle of Princeton, and posing for photos.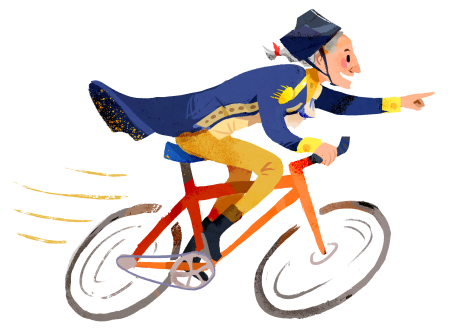 Princeton's 5th annual Ciclovia is a free event that promotes healthy, active living by closing Quaker Road to vehicles (from 1 to 4 PM) and opening it for people to exercise, play, and learn. Families can run, walk, skate, and ride bikes along the route.
In the event of rain during this time, George will be inside the barn at Updike Farmstead.
Refreshments will be available from Tico's Eatery & Juice Bar. There is no sign-up to attend Ciclovia – just come and enjoy! Parking is available at the Quaker Meeting House or Mercer Mall.
The MAGIC and HISTORY of MARQUAND PARK
In 1953, the Marquand family donated 17 acres of their estate, Guernsey Hall, to the municipality of Princeton to serve as an arboretum and passive recreation park. Once part of a 30-acre farm owned by Judge Richard Stockton Field, Marquand Park is home to more that 140 difference tree specimens, some dating back over 170 years!
Check back for a Fall 2018 tour date!
Past Events:
Building Princeton
April 8, 2018