VINTAGE BASEBALL WEEKEND
Kick off summer on Friday, June 21 with a viewing of the star-studded classic, A League of Their Own, with Tom Hanks, Geena Davis, Madonna, and more, on the big indoor screen at Morven Museum and Garden, snacks included. Bring your own blanket, favorite team cushion, or beach towel and enjoy an indoor, air-conditioned movie night.
$15 per family; $10 for member families (Click here to register.)
Please limit families to 2 adults and all children under 18 from the same household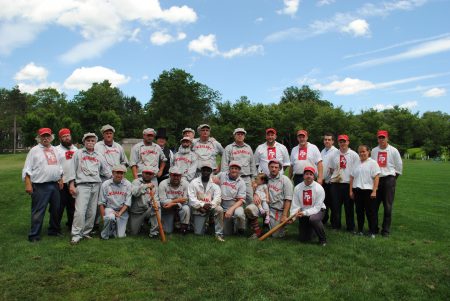 On Saturday, June 22, cheer on the Flemington Neshanock and the Diamond State Base Ball Club as they play competitive matches of bare-handed baseball, wearing period uniforms and using rules from 1864 or 1873. Part game, part show, part history lesson and ALL fun, the event also includes facts on the history of the game and a recitation of "Casey at the Bat."
Free; no registration required. Bring a blanket or lawn chair. Location: Greenway Meadows Park, 275 Rosedale Road
Both events are held in collaboration with Morven Museum and Garden, in conjunction with their exhibition, From the Cradle to the Major Leagues: New Jersey Base Ball 1855 – 1915.
CELEBRATE INDEPENDENCE
Many of our founding fathers spent time in Princeton, including George Washington, John Adams, and Alexander Hamilton. Learn where and why on this one-hour walk featuring locations central to Princeton's role in the Revolutionary War. Starts at the Princeton Battle Monument.
Tickets are available for the following date: July 5, 2019 at 11:00 AM
The MAGIC and HISTORY of MARQUAND PARK
In 1953, the Marquand family donated 17 acres of their estate, Guernsey Hall, to the municipality of Princeton to serve as an arboretum and passive recreation park. Once part of a 30-acre farm owned by Judge Richard Stockton Field, Marquand Park is home to more that 140 difference tree specimens, some dating back over 170 years! Free, registration is recommended, as space is limited.
Fall date will be announced in late summer.

Past Events:
Building Princeton
April 14, 2019
HistoryFest
September 30, 2018