Announcing a new HSP signature event: HistoryFest!
Sunday, September 24
1:00 – 4:00 pm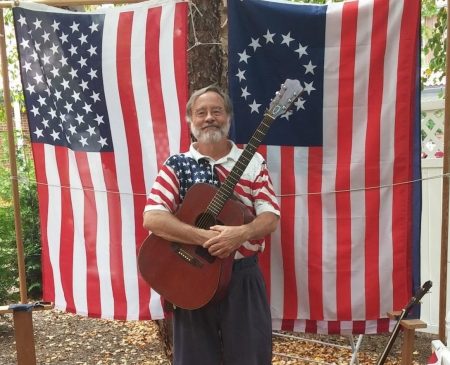 Experience Americana with a variety of performances and activities for all ages. Admission to Updike Farmstead is free!
Activities include musician Matt Dodd's "Songs and Stories of the Red, White and Blue" (pictured); Historic Stony Brook walking tour ($5; space is limited); American folk tales with storytellers MaryAnn Paterniti and Maria LoBiondo; Wiebke Martens and Jennifer Jang discuss their new photographic guidebook, Discovering Princeton, and reveal a bit of the fascinating story of how Princeton came to be the place it is today.
Ongoing activities include a display of WWI artifacts and documents from HSP's collection, a dendrochronology demonstration and craft. Farmhouse museum exhibitions, including the Einstein Salon and Innovators Gallery, will be open for self-guided browsing.
For a schedule of events, visit https://princetonhistory.org/events/historyfest
The MAGIC and HISTORY of MARQUAND PARK
Saturday, October 28 11:00AM
Free, but registration is required, as space is limited.
In 1953, the Marquand family donated 17 acres of their estate, Guernsey Hall, to the municipality of Princeton to serve as an arboretum and passive recreation park. Once part of a 30-acre farm owned by Judge Richard Stockton Field, Marquand Park is home to more that 140 difference tree specimens, some dating back over 170 years!
Join Bob Wells, Associate Director of Arboriculture at Morris Arboretum, and Roland Machold, former Marquand Park Foundation board member, as they share the history of the property and highlight the native and exotic trees in the collection.
Starts are Marquand Park parking lot, Lover's Lane between Stockton and Mercer Streets.
To register for the tour, visit https://princetonhistory.org/events/the-magic-and-history-of-marquand-park/