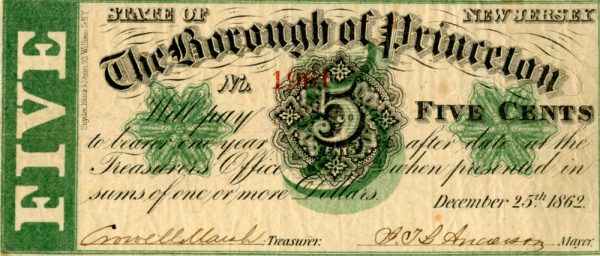 At the heart of the Society's ability to serve the community are its important museum and archival collections. Used by scholars, students, genealogists, architects, local business people and the general public, the collections document daily life in Princeton from early settlement to the 21st century. Items include furniture, paintings, clothing, household objects, manuscripts, photographs, architectural drawings, and maps.
The Society's Einstein Furniture Collection includes 65 pieces of furniture owned and used by Albert Einstein, who lived in Princeton from 1933 to 1955. More than 800 manuscript collections include family papers, records of Princeton businesses (especially real estate) and institutions (including local schools), oral history transcripts, and scrapbooks. Specific holdings include the papers of the Stockton and Olden families, two of the town's early families; the papers of pioneering geologist Arnold Guyot; and the records of local organizations such as the Friendship Club, an early 20th-century African-American women's civic group. The images found in the Rose Studio, Laurie Vance Johnson, and the Princeton Packet photographic collections record almost every aspect of Princeton in the late 19th and 20th centuries. More than 2,000 architectural drawings represent the work of Rolf Bauhan, Howard Russell Butler, Kenneth Kassler, James A. Kerr, and other prominent architects working in Princeton.
In 2015, with tremendous assistance from Bohren's Moving and Storage, the Historical Society of Princeton transferred its entire collection to a new climate-controlled, local storage space. This space allows for the re-housing, cataloguing, and research of HSP's full collection, making the entire collection a more accessible resource for staff, researchers, and the general public.
A Note on our Important Work
From its inception in 1938, the Historical Society of Princeton has actively collected museum and reference materials relevant to Princeton or of general historical interest. Over time, a substantial and important collection of over 100,000 items was established, consisting of artifacts, maps, architectural drawings, archival manuscript materials, photographs, newspapers, and reference books. This collection is at the heart of all HSP's core programs, with many of these items aiding in our mission of bringing the remarkable history of Princeton, NJ to life for diverse audiences.
As per field-wide best practices, HSP periodically reviews its holdings, a process that includes determining which objects truly support HSP's mission and which objects are not relevant.
Starting in 2014, HSP began its most recent collections review, an extremely thorough look at each and every three-dimensional artifact in HSP's possession, of which there are approximately 3,000. As part of this process, HSP reunited objects with records, improved the documentation of objects in our collections database, repackaged holdings according to conservation standards, and identified approximately 500 objects that do not support HSP's mission and were recommended for deaccession. HSP retained the vast majority of its collection.
As with all professional museum institutions, a formal, Board-adopted Collections Management Policy governs all collections practice at HSP. This policy aligns with all best practices, industry standards, and American Alliance of Museums guidelines. Within its Collections Management Policy, HSP outlines its general criteria for the acquisition and deaccession of museum materials. Primarily, items in HSP's holdings must document the history of the Princeton area or its role in state or national history.
Despite the good intentions of HSP and its many generous donors over time, there are some items that do not meet HSP's collecting criteria, largely because they lack sufficient connections to Princeton history. HSP researched these objects extensively to confirm that there was no compelling reason for them to be in HSP's collection; each item has been reviewed three times over the last five years as part of this process.
On August 26, 2019, HSP's Board of Trustees approved 487 items to be deaccessioned. These objects are no longer a part of the museum collection. Deaccessioning is part of the healthy life cycle of museum collections, allowing HSP to focus on preserving, interpreting, and sharing the collections that are truly meaningful to the Princeton community.
Consistent with established best practices, deaccessioned objects deemed suitable were offered to other cultural institutions, while others were sold at a well-advertised public auction. All proceeds generated by the auction sale are restricted for the direct care of HSP's important collections. The auction and sale were generously sponsored by Rago Auctions.