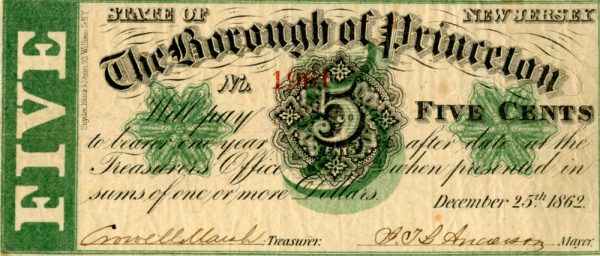 At the heart of the Society's ability to serve the community are its important museum and archival collections. Used by scholars, students, genealogists, architects, local business people and the general public, the collections document daily life in Princeton from early settlement to the 21st century. Items include furniture, paintings, clothing, household objects, manuscripts, photographs, architectural drawings, and maps.
The Society's Einstein Furniture Collection includes 65 pieces of furniture owned and used by Albert Einstein, who lived in Princeton from 1933 to 1955. More than 800 manuscript collections include family papers, records of Princeton businesses (especially real estate) and institutions (including local schools), oral history transcripts, and scrapbooks. Specific holdings include the papers of the Stockton and Olden families, two of the town's early families; the papers of pioneering geologist Arnold Guyot; and the records of local organizations such as the Friendship Club, an early 20th-century African-American women's civic group. The images found in the Rose Studio, Laurie Vance Johnson, and the Princeton Packet photographic collections record almost every aspect of Princeton in the late 19th and 20th centuries. More than 2,000 architectural drawings represent the work of Rolf Bauhan, Howard Russell Butler, Kenneth Kassler, James A. Kerr, and other prominent architects working in Princeton.
A Note on our Important Work
November Collections Update
On November 13, 2015, with tremendous assistance from Bohren's Moving and Storage, the Historical Society of Princeton completed the final transfer of its collections to HSP's new climate-controlled, local storage space. This move marked the last of five collections transfers this year, occurring on July 11, August 8, September 12, October 8, and November 13. All items in HSP's collections will be unpacked, re-housed, catalogued in detail, and reorganized into discrete collections, making the entire collection a more accessible resource for staff, researchers, and the general public.
---
The Historical Society of Princeton ("HSP") was founded in 1938 as a local history organization offering public programs to bring people together and to support research. Over time, developing in a museum model, HSP started collecting objects and archival materials to tell the stories of Princeton's past. These collections were largely generated by a near-universal acceptance of items offered from the public. Prior to the establishment of professional guidelines and policies, the collections grew significantly.
Today, in support of its mission to teach local and international visitors that history is relevant in daily life, and can be used to explore a shared connection among people; to celebrate a love of place; and to promote conversations on creating a better future, HSP is addressing an overabundance of collections materials. The Board of Trustees has initiated a careful, thorough and documented process to review all of its collections to determine which objects support the mission and should be retained, and which objects are not relevant. Using the American Alliance of Museums guidelines, HSP has been researching the nature and condition of all the objects so that the organization can move forward actively using its retained objects and archives for the greater public good.
Despite the good intentions of HSP and its many generous donors over time, it has become apparent that a significant percentage of the objects in HSP's collections do not support these objectives and are not being utilized in either its programmatic or research activities. This is inconsistent with the ethical, financial, and practical obligations of the organization. Decisions on deaccessioning objects that fall into this category will be one of the outcomes of this process.
The first phase of this work has resulted in a weeding of HSP's vast book collections which were donated over time, and in great duplicate quantities. The books that were removed do not support the documentation or research objectives of HSP. In many cases, these books were duplicates of others already in HSP's research library. Consistent with established best practices, some of the book/booklets/catalogs were transferred to other cultural institutions, and some were sold at a public auction in July. All proceeds generated by the auction sale will be used for the care of HSP's important collections. The research library collections remain a vital part of the Historical Society's holdings.