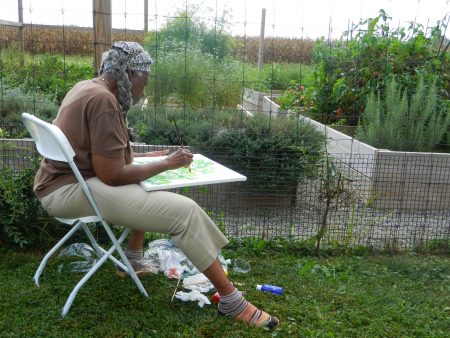 A selection of work from The A-TEAM Artists of Trenton is on view in the first floor hallway of the farmhouse. The A-TEAM Artists of Trenton is an independent art cooperative based at the Trenton Area Soup Kitchen (TASK). Membership in the A-TEAM is open to everyone who uses the services and programs of TASK. The artists and program coordinator meet once per week to create artwork in all different media. The work of the A-TEAM artists is shown at TASK and at exhibitions throughout Mercer County. Proceeds from the sales of related posters, notecards and the work itself go directly to the artists.
The artwork shown in the farmhouse resulted from visits by the A-TEAM to Updike Farmstead since 2009. The Historical Society first exhibited the work of the A-TEAM in the summer of 2009 at Bainbridge House during the exhibition Hunger Pains: Feeding People in Central New Jersey.
To learn more about the A-Team artists, visit http://www.ateamartists.com.