The Historical Society of Princeton headquarters is at Updike Farmstead at 354 Quaker Road. A hub for cultural enrichment, experiential education, and stewardship of collections and places, HSP preserves and shares Princeton's diverse, important, and fascinating stories with wide audiences. In so doing, HSP enhances community vitality and builds historical literacy, cornerstones of healthy civic culture.
Our Mission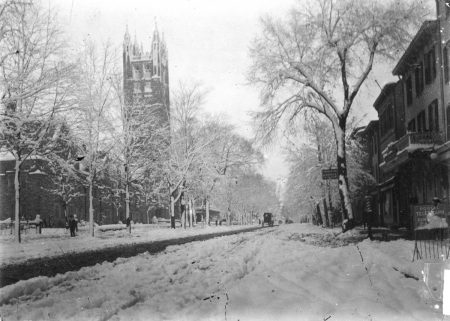 Inspired by the worldly and entrepreneurial spirit of the citizens of Princeton, and graced by the important legacy of the town, the Historical Society of Princeton develops signature programs of learning and discovery to connect the lessons of the past to the issues which inform our future. Using our historic sites and collections, we teach local and international visitors that history is relevant in daily life, and can be used to explore a shared connection among people; to celebrate a love of place; and to promote conversations on creating a better future.
Our Vision
If we are successful in our mission, our audiences will have a passion for history and will appreciate its importance in connecting with others and learning about the world around them. By inspiring children and adults to be curious history stewards, we hope to pass along the important lessons of the past. We believe our work will ultimately lead to respectful and responsible behavior among people, toward each other, and toward the built and natural world around us.
Our Programs and Services
Collections Stewardship
At the heart of the Society's ability to serve the community are its important museum and library collections. Used by scholars, students, genealogists, architects, local business people, and the general public, the collections document daily life in Princeton from Native American settlement through the 20th century. Items include furniture, paintings, clothing, household objects, photographs, maps, architectural drawings, directories, and manuscripts, and range from a 1760s tanner's account ledger to a silver boudoir set owned by the daughter of Grover Cleveland. The Society's Einstein Furniture Collection includes 65 pieces of furniture owned and used by Albert Einstein while he lived in Princeton from 1933 to 1955. This collection was supplemented in 2016 by the gift of the Gillett Griffin Collection of Einstein Ephemera, which includes, among other things, Albert Einstein's pipe and compass and the only known self-portrait of Einstein.
The Society's library and photo archives comprise more than 38,000 manuscripts, photographs, glass-plate negatives, maps, and architectural drawings. The extensive manuscript holdings include the papers of the Stockton and Olden families, two of the town's founding families; the papers of pioneering geologist Arnold Guyot; and the records of local organizations such as the Friendship Club, an early 20th-century African-American women's civic group; and over 500 oral history recordings.
HSP commits itself to the highest industry standards of stewardship for this collection, and regularly works to make the collection accessible to the public, through digitization initiatives and other programming. HSP's research services program deploys HSP's archival materials in response to research inquiries. HSP's vast and remarkable photograph collection is frequently reproduced in publications, magazines, tv productions, exhibitions, and on the walls of local businesses. HSP actively collects material related to the history of Princeton.
Exhibitions
Our insightful exhibitions explore Princeton's history as a lens for interpreting relevant state, national, and global issues, always creating connections with primary historical materials.
The Historical Society also collaborates on exhibitions at other cultural institutions in Princeton, including Neighborhood Portrait: Documenting the Witherspoon-Jackson Community at the Paul Robeson Center for the Arts of the Arts Council of Princeton, an exhibition of vintage photographs at the Charles Schwab office at 132 Nassau Street, and an annual fall history exhibition in the Princeton Room at the Princeton Public Library.
Public Programs
Our exciting suite of public programs focus on experiential education, hands-on interactions, and community dialogue, encouraging the public to think about history in new ways. Public programs regularly offered by HSP include walking tours, lectures, workshops, recreational activities, book discussions, family programs, and special events. Every Sunday at 2pm, come join a guided walking tour of downtown Princeton and learn all about Princeton's people, its architecture, and historical moments from an HSP-trained guide. Check our calendar for special walking tours, including the Princeton University Architecture tour. Our smartphone app offers self-guided historical tours, including the Albert E. Hinds Memorial Tour: African-American Life in Princeton and the "Green Oval" Tour: A Snapshot of 18th Century Princeton. The Historical Society's lectures and panel discussions feature well-known speakers covering historical topics in Princeton, New Jersey and national history. Open Archive programs offer pop-up themed interactions with materials from HSP's collection and the Historical Fiction Book Group features scholar-led discussions on a variety of historical places, periods, and themes. For those who cannot travel to us, we offer Outreach Programs, history presentations about Albert Einstein, Princeton Cemetery, African-American History, and the American Revolution at community centers, senior communities, corporations, and libraries.
Co-Curricular Support for Schools
HSP offers essential and acclaimed field trips, outreach programs, curriculum development, and professional development for teachers.
A full slate of in-classroom and field trip education programs is available to school children from kindergarten through high school. HSP also develops the third-grade local history curriculum used in Princeton Public Schools.
HSP serves as an official Holocaust/Genocide Resource Center through the State of New Jersey, offering a resource library and two free teacher professional development workshops annually. To date, these workshops have trained over 200 teachers.
Our Impact
We enhance Princeton's vitality as a community.
We boost emotional, civic, and economic investment in the community by creating a strong sense of place and an awareness of legacy.
We foster independent and critical thinking.
We encourage responsible and respectful citizenship and leadership by building an appreciation of nuance, evidence, and multiple perspectives.
We connect people through shared heritage.
We enable people to find common ground and shared values, which promotes productive conversation and cohabitation.
We ensure that our future is informed by our past.
We provide a foundation from which people can craft better solutions for a better future.

Support
The Historical Society of Princeton is a private, non-profit organization. Its activities are made possible through individual contributions; grants from corporations, foundations, and government agencies; and earned income. Individual contributions via the Annual Fund are an important source of income. All Annual Fund donors are welcomed as Members of HSP. These supporters sustain one of Princeton's most important historical and educational resources. Supporters of the Annual Fund can participate in the Time Travelers Museum Reciprocity program. See our Annual Fund information page for details.