Sunday public walking tours as well as special walking tours are available. Please click here for more information.
For more information on the private tours we offer for adult groups, please visit our Group Tours page by clicking here.
Classic Princeton History Walking Tour
Date/Time
Date(s) – Every Sunday
2:00 pm – 4:30 pm
Location
Bainbridge House
Enjoy a 2-mile, two-and-a-half hour walk around downtown Princeton and the University campus as you learn about historic sites in the area, including Bainbridge House, Nassau Hall, the University Chapel and Palmer Square. The early history of Princeton, the founding of the University and the American Revolution are just some of the stories from Princeton's history that you will learn on your tour.
Tickets are $7. Advance purchase is recommended, as space is limited.
Walk up ticket sales are cash only; guides cannot provide change. Please click here to purchase tickets.
Princeton University Eating Clubs
Date/Time
Check back for 2018 dates!
Location
Colonial Club, 40 Prospect Avenue
Princeton's majestic Eating Clubs have been the center of undergraduate social life for over a century. Clifford Zink, author of Princeton Prospect Foundation's recently released book, The Princeton Eating Clubs, will lead an exterior tour of all 16 clubhouses on Prospect Avenue and Washington Road and an interior visit to three clubs – Colonial, Cap & Gown, and Cloister.
Tickets are $20.
Stony Brook Walking Tour
Date/Time
Check back for Spring 2018 dates!
Location
Updike Farmstead
Before there was a "Princeton," six Quaker families established a community on the fertile ground along Stony Brook. This two-hour hike explores the lives of the early settlers and the community they established, while following a portion of the trail George Washington took from Trenton to the Princeton Battlefield. Stops include the Stony Brook Meeting House and Burial Ground, walking a portion of the "hidden" back road into Princeton, and a view of the Battlefield.
Starts at the Updike Farmstead farmhouse, 354 Quaker Road.
Tickets are $5, and include farmhouse museum admission.
Albert E. Hinds Memorial Walking Tour – Digital Version Now Available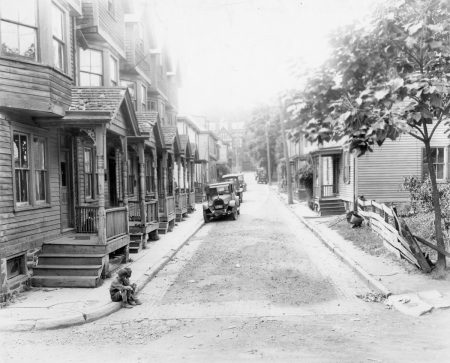 Click here to access a digital version of the Albert E. Hinds Memorial Walking Tour: African American Life in Princeton through your smart phone. Developed and narrated by Shirley Satterfield, a resident of the community and member of the first integrated class at Nassau School.
Princeton's African American community has withstood segregated schooling and theatres, limited employment opportunities, escalating housing costs and the subtle, but powerful, effects of racial discrimination. The memories of struggle, and of past accomplishments, remind everyone that progress is an on-going process that must be taken on my new generations to come.
Experience a one of a kind tour of the historic Witherspoon-Jackson neighborhood that gives you the history below Nassau Street. Learn about the "Princeton Plan" that desegregated schools at the site of the Witherspoon Street School for Colored Children; hear about the life of Paul Robeson at his birthplace; and visit Birch Avenue, where many houses were moved when the establishment of Palmer Square demolished much of the historic Black neighborhood across from the University.
HSP received a project grant from the New Jersey Historical Commission, a division of the Department of State, to support this project.