NEW! Historical Fiction Book Group
September 20
6:30 pm – 8:00 pm
Updike Farmstead Barn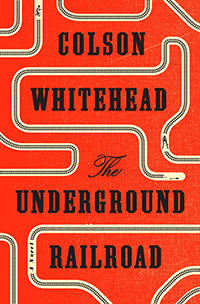 Knowing about the past helps us make sense of the present, putting current affairs into important context. But this process of building historical literacy doesn't have to be dry! Get immersed in the world of a historical time and place, and then engage with a scholar to learn the "real" story.
For meetings of the historical fiction book group, scholars participate in discussions of the fictional elements and the nonfictional local and regional context of selected novels. This program is presented in partnership with the Princeton Public Library.
On Sept. 20, discuss Colson Whitehead's critically acclaimed The Underground Railroad, with Mekala Audain, professor of 19th-century U.S. history and African-American history at The College of New Jersey. Books are available at the Princeton Public Library.
Presented with support from the National Endowment for the Humanities: Any views, findings, conclusions or recommendations expressed in this programming do not necessarily represent those of the National Endowment for the Humanities.
NEW! HistoryFest
Sunday, September 24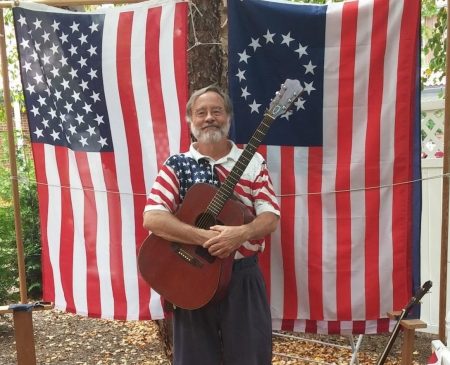 1:00 – 4:00 pm
Experience Americana with a variety of performances and activities for all ages. Admission to Updike Farmstead is free!
Activities include musician Matt Dodd's "Songs and Stories of the Red, White and Blue" (pictured); Historic Stony Brook walking tour ($5; space is limited); American folk tales with storytellers MaryAnn Paterniti and Maria LoBiondo; Wiebke Martens and Jennifer Jang discuss their new photographic guidebook, Discovering Princeton, and reveal a bit of the fascinating story of how Princeton came to be the place it is today. Ongoing activities include a display of WWI artifacts and documents from HSP's collection, a dendrochronology demonstration and craft. Farmhouse museum exhibitions, including the Einstein Salon and Innovators Gallery, will be open for self-guided browsing.
Presented with support from Charles Schwab.
For a schedule of events, visit https://princetonhistory.org/events/historyfest
NEW!

A Beautiful Mind: Screening and Panel Discussion
In partnership with the Princeton Garden Theatre, join us for a very special screening of 2001's A BEAUTIFUL MIND about the life of mathematician and Princeton professor John Nash, followed by a panel discussion with John Nash's son, John Stier, and Princeton University Professor Emeritus of Mathematics Joseph Kohn.
Shot on location at Princeton University, this Best Picture winner depicts Nash's brilliant work and his struggles with mental health issues. A powerful performance from Russell Crowe with an incredible supporting cast including Jennifer Connelly, Ed Harris, and Christopher Plummer.
Tickets can be purchased through the Garden Theatre Box Office.
Walking Tours
Sunday public walking tours as well as special walking tours are available. Please click here for more information.
For more information on the private tours we offer for adult groups, please visit our Group Tours page by clicking here.
Classic Princeton History Walking Tour
Date/Time
Date(s) – Every Sunday
2:00 pm – 4:30 pm
Location
Bainbridge House
Enjoy a 2-mile, two-and-a-half hour walk around downtown Princeton and the University campus as you learn about historic sites in the area, including Bainbridge House, Nassau Hall, the University Chapel and Palmer Square. The early history of Princeton, the founding of the University and the American Revolution are just some of the stories from Princeton's history that you will learn on your tour.
Tickets are $7. Advance purchase is recommended, as space is limited.
Walk up ticket sales are cash only; guides cannot provide change. Please click here to purchase tickets.
Princeton University Architecture Tour
Date/Time
Date(s) – October 7
10:00 am – 12:30 pm
Location
Starts at Palmer Square's Tiger Park
This popular tour explores the phenomenal architecture on campus, dating from 1756 to the present. Buildings on this two-mile walk include the Georgian-style Nassau Hall, collegiate gothic marvels, and extraordinary contemporary designs, including the Frank Gehry-designed Lewis Library, the Stadium, the Icahn Laboratory, and the brand-new Princeton Neuroscience Institute/Psychology facility.
Please click here to book this tour.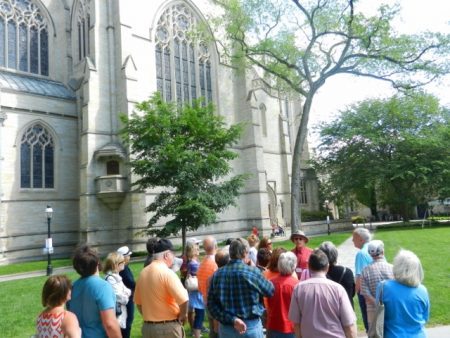 Date/Time
Date(s) – September 24 (at 2:30 pm), October 21 and November 18
1:00 pm – 3:00 pm
Location
Updike Farmstead
Before there was a "Princeton," six Quaker families established a community on the fertile ground along Stony Brook. This two-hour hike explores the lives of the early settlers and the community they established, while following a portion of the trail George Washington took from Trenton to the Princeton Battlefield. Stops include the Stony Brook Meeting House and Burial Ground, walking a portion of the "hidden" back road into Princeton, and a view of the Battlefield.
Starts at the Updike Farmstead farmhouse, 354 Quaker Road.
Tickets are $5, and include farmhouse museum admission. Please click here to purchase tickets.

Albert E. Hinds Memorial Walking Tour – Digital Version Now Available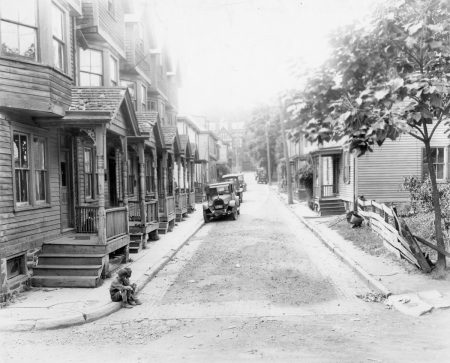 Click here to access a digital version of the Albert E. Hinds Memorial Walking Tour: African American Life in Princeton through your smart phone. Developed and narrated by Shirley Satterfield, a resident of the community and member of the first integrated class at Nassau School.
Princeton's African American community has withstood segregated schooling and theatres, limited employment opportunities, escalating housing costs and the subtle, but powerful, effects of racial discrimination. The memories of struggle, and of past accomplishments, remind everyone that progress is an on-going process that must be taken on my new generations to come.
Experience a one of a kind tour of the historic Witherspoon-Jackson neighborhood that gives you the history below Nassau Street. Learn about the "Princeton Plan" that desegregated schools at the site of the Witherspoon Street School for Colored Children; hear about the life of Paul Robeson at his birthplace; and visit Birch Avenue, where many houses were moved when the establishment of Palmer Square demolished much of the historic Black neighborhood across from the University.
HSP received a project grant from the New Jersey Historical Commission, a division of the Department of State, to support this project.