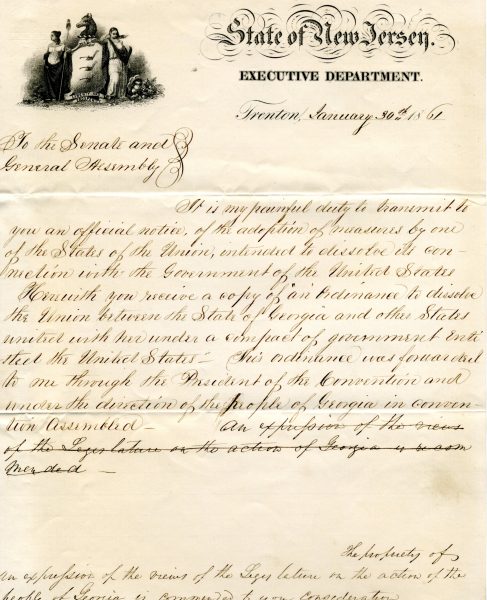 Einstein Furniture Collection: 65 pieces of furniture owned and used by Albert Einstein in his Berlin and Princeton homes. Items include chairs, tables, desks, a tall case clock, cabinets, a music stand, and a victrola.
---
Rose Studio Photo Collection: 10,000 glass-plate negatives from a three-generation photography firm in Princeton – primarily dating from the late 19th and early 20th centuries. These images document all aspects of life in Princeton.
---
Stockton Family Papers and Olden Family Papers: correspondence, deeds, journals, and photographs documenting two of the earliest families in Princeton. Materials in these collections range from the 18th through the 20th century.
---
Princeton History Project Collection: Oral history recordings, transcripts, photographs, small objects, books, and newspapers from the Princeton History Project, an early local history initiative during the 1970s and 1980s that documented the stories of Princeton residents alive at the turn of the century. Excerpts from interviews were published in the Princeton Recollector newspaper during its ten-year run.
---
Oral History Collection on Albert Einstein: Interviews conducted by author Jamie Sayen in the 1970s with Albert Einstein's Princeton friends and colleagues. When researching his book Einstein in America, Sayen spoke with over 29 people who knew Einstein during his time in Princeton, including his secretary, Helen Dukas.
---
Silvester and Kopp Photo Archives: Approximately 8,000 glass-plate negatives primarily from local photographers Kopp and Silvester, ca. 1880-1930.
---
I Hear My People Singing Oral History Collection: Interviews conducted by author Kathryn Watterson for her award-winning book I Hear My People Singing: Voices of African American Princeton, published by Princeton University Press in 2017. Watterson began her research in the 1990s and spoke with over 50 Princeton residents. Collection also includes research, drafts, and correspondence.
---
Updike Collection: books, invoices, photographs, and three-dimensional objects documenting the history of the Updike family on their Quaker Road property.
---
YMCA Photo Collection: photographic collection documenting the activities of the Princeton area YMCA, including the Witherspoon branch (the "Colored Y").
---
Rolf Bauhan Collection: comprehensive business archive of a highly prolific architect in Princeton in the first half of the 20th century. The collection includes architectural drawings, photographs, and correspondence.
---
Thomas Stapleton Papers: correspondence and photographs documenting the development of Palmer Square in the 1930s.
---
Ruth Cleveland's silver dressing tray: Ruth was the daughter of President Grover Cleveland.
---
Dioramas of Princeton landmarks constructed by G. Vinton Duffield in the mid-20th century.