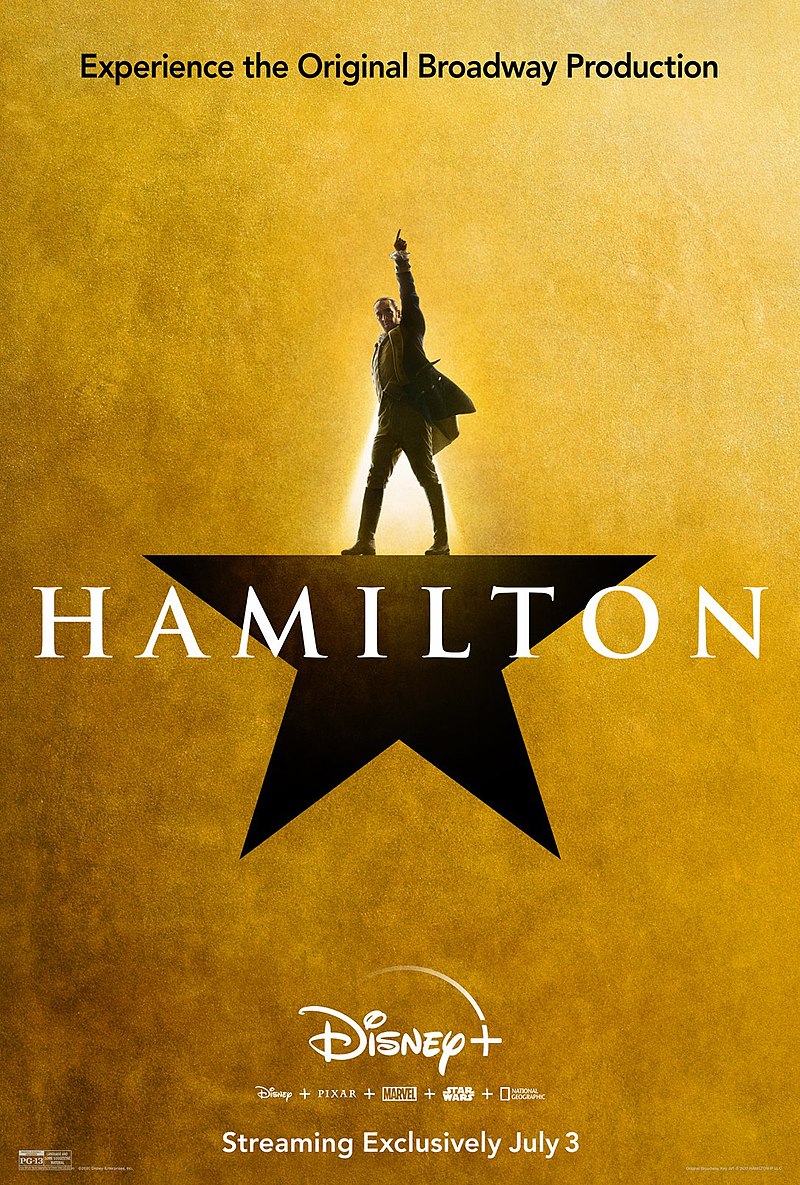 To coincide with Disney+'s release of Hamilton: An American Musical, the Historical Society of Princeton has added a new virtual tour to its History@Home resources. The content explores the myths and the true stories of places in Princeton connected to Alexander Hamilton, George Washington, Aaron Burr Jr., and more!
Click here to access the map-based tour, or scroll down to read through the sites as an article.
Nassau Hall
Princeton University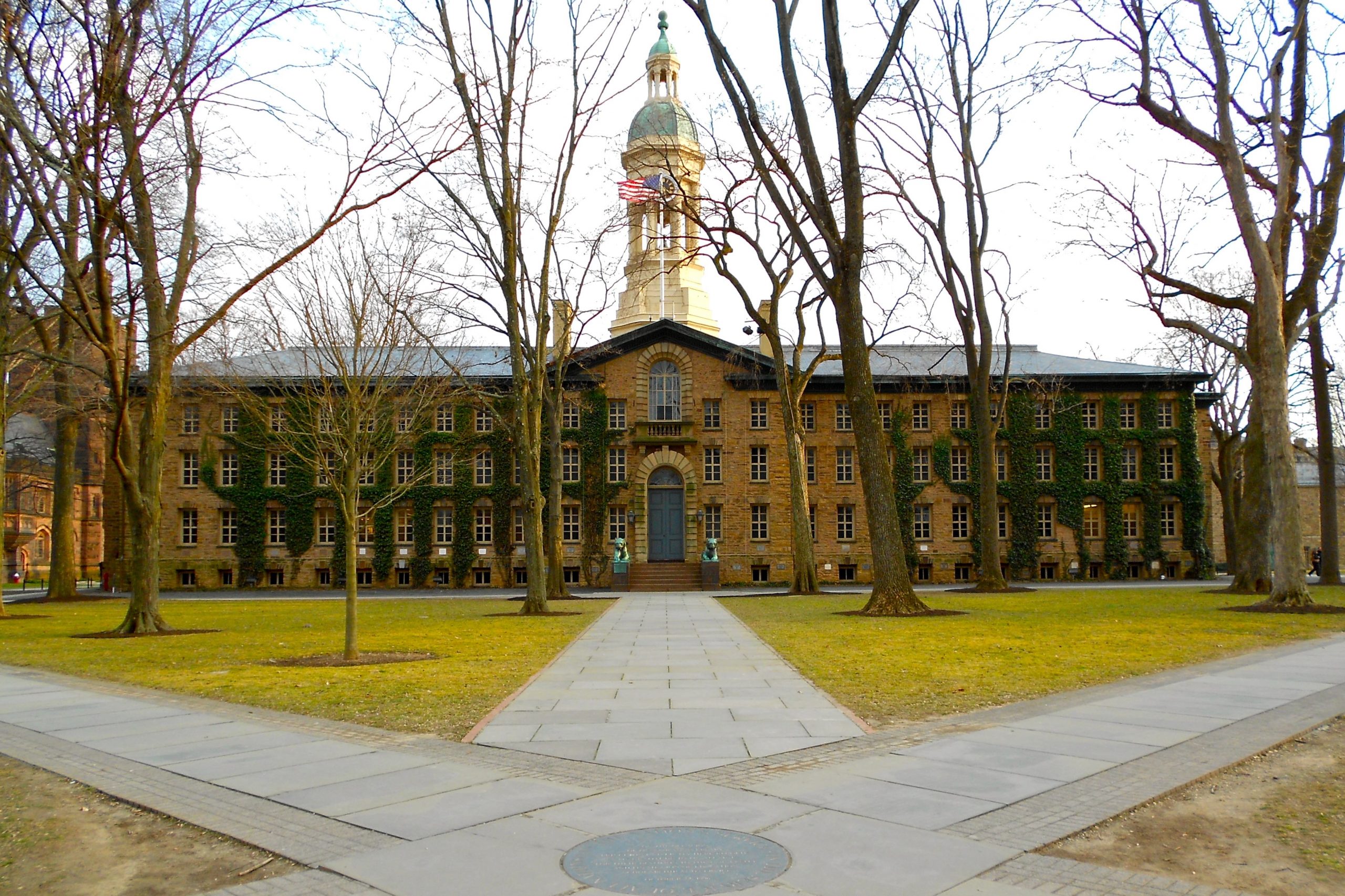 SONG: "AARON BURR, SIR"
HAMILTON: "Sir… I heard your name at Princeton. I was seeking an accelerated course of study when I got sort of out of sorts with a buddy of yours. I may have punched him. It's a blur, sir. He handles the financials?"
BURR: "You punched the bursar."
Nassau Hall was built in 1756 to house the College of New Jersey (now Princeton University) when it moved to Princeton from Newark. According to Hamilton's friend, Revolutionary War spy Hercules Mulligan (also a character in the musical), Hamilton very much wished to attend the College of New Jersey and had been conditionally accepted after meeting with college president John Witherspoon. This offer was later revoked by the College's trustees due to Hamilton's plans to accelerate his studies and earn his degree in less than four years. Mulligan claimed that Hamilton was notified of the decision through a letter from Witherspoon. Hamilton did not, in fact, "punch the bursar" in response– this anecdote was added by musical creator Lin-Manuel Miranda, who found that "the rhyme was too good to pass up."
There are several issues with Mulligan's account that call this story into question. For one, there already existed a model at the College of New Jersey that allowed students, such as Aaron Burr Jr., to graduate early, so the Trustees should have had no issue with Hamilton's interest in doing the same. Secondly, no records of this tale other than Mulligan's telling seem to exist. Hamilton's rejection does not appear in the Trustees' minutes and the alleged letter from Witherspoon has yet to be found.
Princeton Battlefield State Park
500 Mercer Road

SONG: "RIGHT HAND MAN"
WASHINGTON "Any hope of success is fleeting, how can I keep leading when the people I'm leading keep retreating?"
At the end of 1776, following a string of highly publicized defeats in New York and New Jersey that crushed morale and forced the Continental Army into Pennsylvania, the Revolution was at crossroads. American soldiers were cold, hungry, tired of retreating, and looking forward to returning home when their enlistments expired on December 31. With a majority of his army set to leave the war effort behind, Washington needed a victory to inspire hope. With the Hessian garrison at Trenton in his sights, Washington and his army crossed the Delaware River on Christmas night, and marched 19 miles under the cover of a relentless snowstorm. On the morning of December 26, Washington's army surprised the Hessians and claimed their first major victory of the war.
Over the course of the next eight days, the Continental Army would go on to win major victories at Battle of the Assunpink Creek (also called the Second Battle of Trenton) and the Battle of Princeton. This ten day period from December 25, 1776 to January 3, 1777, often referred to as The Ten Crucial Days, turned the tide for the Continental army. Hamilton served as the captain of an artillery unit in both Battles of Trenton and the Battle of Princeton.
Quaker Road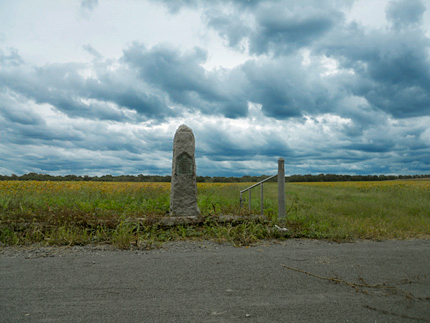 SONG: "RIGHT HAND MAN"
WASHINGTON: "Nathanael Greene and Henry Knox wanted to hire you"
HAMILTON: "To be their secretary, I don't think so"
In the lead-up to the Battle of Princeton on January 3, 1777, as the Continental Army approached British-occupied Princeton from the south, George Washington paused on Quaker Road to strategically divide his forces for the attack on Princeton. Nathanael Greene, an unseen character in the musical, led the smaller column of troops that unexpectedly clashed with British forces in the location that is today known as Princeton Battlefield State Park. Later, Greene reflected on the intense conflict, saying that the actions of the day showed "the horrors of war beyond description."
Image: A Washington's Route obelisk along Quaker Road. Twelve markers were erected in 1914 by the New Jersey Sons of the Revolution to mark the Continental army's route from Trenton to the Battle of Princeton.
Mercer Oak
500 Mercer Road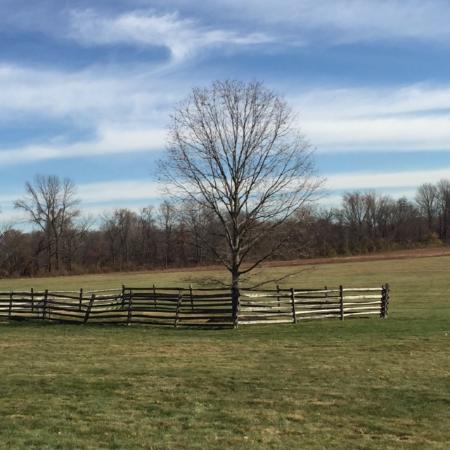 SONG: "IN THE ROOM WHERE IT HAPPENS"
BURR: "Ah, Mister Secretary."
HAMILTON: "Mister Burr, sir."
BURR: "Did'ya hear the news about good old General Mercer?"
HAMILTON: "No."
BURR "You know Clemont Street?"
HAMILTON: "Yeah."
BURR: "They renamed it after him, the Mercer legacy is secure."
HAMILTON: "Sure."
BURR: "All he had to do was die."
HAMILTON: "That's a lot less work."
BURR: "We oughta give it a try."
General Hugh Mercer was a seasoned revolutionary, having volunteered in the army of the unsuccessful Jacobite Revolution against the British in Scotland in the 1740s. Fleeing to America as a fugitive, he became a respected physician and general, a close friend of General Washington's, having treated members of the Washington family as a surgeon. Upon his death, Nathanael Greene remembered him as, "a fine companion, a sincere friend, a true patriot, and a brave general."
The Battle of Princeton began in the early morning of January 3, 1777, when troops under the command of General Hugh Mercer clashed with British forces led by Lieutenant Colonel Charles Mawhood. After exchanging several volleys, Mawhood's troops charged with bayonets fixed. In the skirmish that followed, Mercer was thrown from his horse, and stabbed seven times.
Legend has it that Mercer refused to leave his troops on the battlefield, so he rested against the trunk of a tree that would become known as the Mercer Oak. After the battle, he was taken to the Clarke farmhouse, where he died nine days later. The Mercer Oak stood in Battlefield State Park until March 2000, when it was knocked down by strong winds. Today, a descendant of the original tree stands in its place.
New Jersey chose to honor General Mercer's legacy once again in 1838 by naming the newly created Mercer County after him.
Blair Hall
Princeton University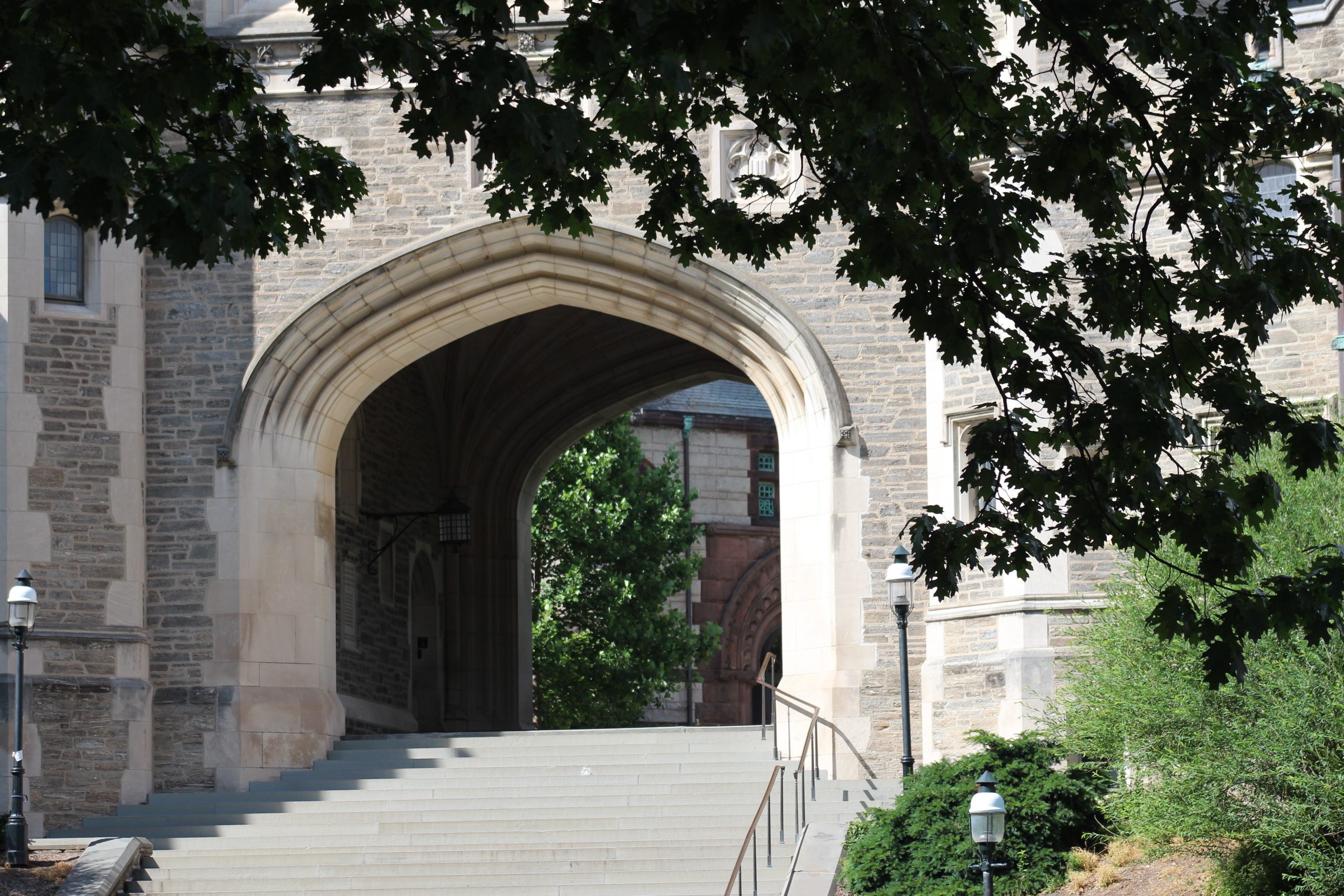 SONG: "AARON BURR, SIR"
HAMILTON: "God, I wish there was a war! Then we could prove that we're worth more than anyone bargained for"
During the Battle of Princeton on January 3, 1777, Alexander Hamilton served as the captain of an artillery unit. Hamilton commanded his men to set up cannons where Blair Hall is today; they then fired several shots at Nassau Hall, which was occupied by Hessian and British soldiers. This action helped the Continental soldiers win the day. After the battle, in recognition of Hamilton's efforts at the first and second battles of Trenton, as well as the Battle of Princeton, General George Washington promoted Hamilton to the rank of Lieutenant Colonel, and invited him to join his military staff as his Aide-de-Camp.
Princeton University Art Museum
Princeton University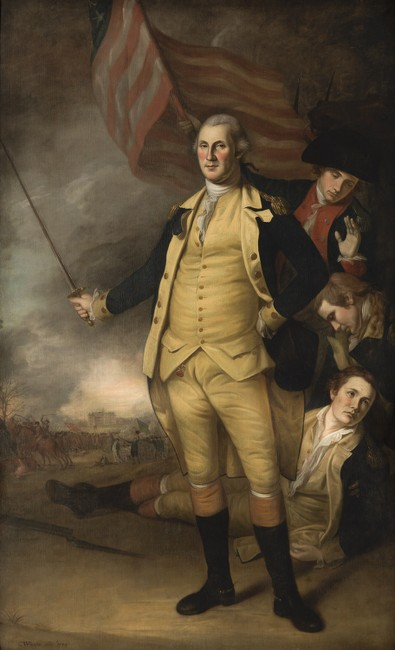 SONG: "I KNOW HIM"
KING GEORGE III: "They say George Washington's yielding his power and stepping away. 'Zat true? I wasn't aware that was something a person could do. I'm perplexed. Are they gonna keep on replacing whoever's in charge? If so, who's next? There's nobody else in their country who looms quite as large…"
According to legend, when Alexander Hamilton directed his cannons at Nassau Hall, one of the shots fired burst through a window, decapitating a portrait of King George II.
While the story has not been proven to be true, the painting did suffer permanent damage during the battle. The frame, however, was unharmed. After the war, to pay homage to General George Washington, the Trustees of the College of New Jersey commissioned Charles Wilson Peale to paint Washington's portrait. The resulting work, "George Washington at the Battle of Princeton," was displayed in Nassau Hall, occupying the same frame that the portrait of King George II once did. In 2006, the painting moved to the Princeton University Art Museum.
Peale was a member of the secret revolutionary group the Sons of Liberty along with Hamilton's friend, Hercules Mulligan. Mulligan brags in the musical's song "Yorktown" that he's "runnin' with the Sons of Liberty and I am lovin' it!"
IMAGE: George Washington at the Battle of Princeton, painted by Charles Willson Peale, 1783–84. Princeton University, commissioned by the Trustees
Maclean House
Princeton University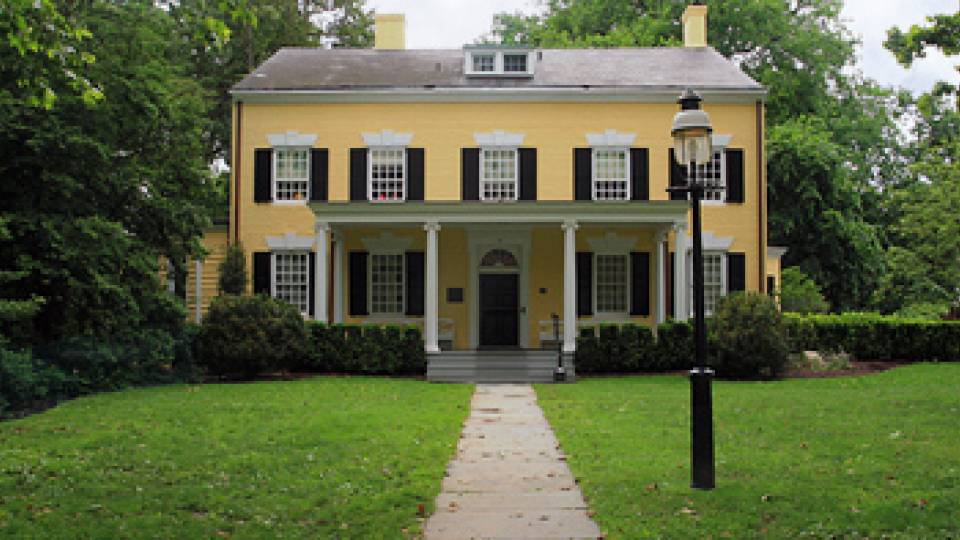 SONG: "AARON BURR, SIR"
HAMILTON: "Yes! I wanted to do what you did. Graduate in two, then join the revolution. He looked at me like I was stupid, I'm not stupid. So how'd you do it? How'd you graduate so fast?" BURR: "It was my parents' dying wish before they passed."
HAMILTON: "You're an orphan. Of course! I'm an orphan."
Named after John Maclean Jr., the tenth President of the College, and the founder of Princeton's Alumni Association, Maclean House was built In 1756 to serve as the residence of the president when the College of New Jersey moved to Princeton.
Aaron Burr, Sr., though the College's second president, was the first president based in Princeton and the first to live in Maclean House. Burr lived there for just a year with his wife Esther, their children, Sarah and Aaron Jr., and enslaved men, Ceasar and Harry. In September 1757, Aaron Burr, Sr. died of a fever. Esther died seven months later after contracting smallpox, orphaning the two-year-old Aaron Jr. and Sarah. The children soon relocated to Philadelphia.
Aaron Burr is accurately described as "the prodigy of Princeton college" in "Aaron Burr, Sir." He enrolled at the College of New Jersey in 1769 at the age of 13. He graduated summa cum laude in just three years.
Princeton Cemetery
29 Greenview Avenue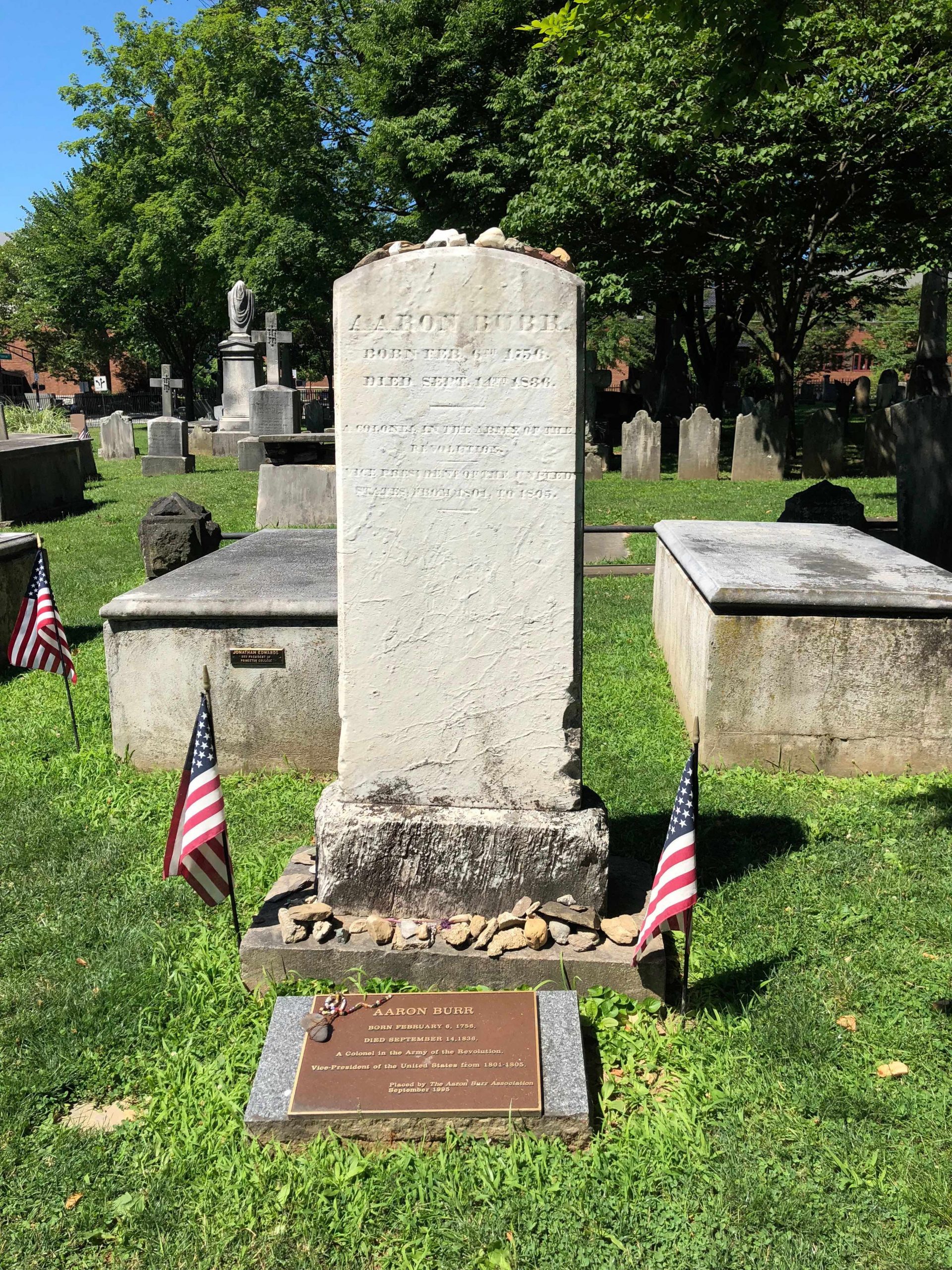 SONG: "WAIT FOR IT"
BURR: "My grandfather was a fire and brimstone preacher. But there are things that the homilies and hymns won't teach ya. My mother was a genius My father commanded respect When they died they left no instructions. Just a legacy to protect."
Aaron Burr, Jr. is buried at the foot of his father's grave in the Presidents' Plot at Princeton Cemetery of Nassau Presbyterian Church. Aaron Burr, Sr., the 2nd president of the College of New Jersey, has the cemetery's oldest grave. It is next to the resting place of Jonathan Edwards, the 3rd president of the College, who was also a famed theologian and Aaron Burr Jr.'s grandfather. Burr's mother Esther is buried in Northampton, MA; his sister Sarah's grave is in Litchfield, CT.
Aaron Burr, Jr. is the only person buried in the president's plot who was not a College/University president, or married to one. College president James Carnahan conducted the funeral sermon in Nassau Hall, and spoke about the evils of dueling. Burr's body was escorted to the cemetery by members of the College faculty, students, alumni, a military band, and "Mercer Guards," an honor guard of the College's Cliosophic Society, of which Burr was a founding member.
Hudibras Tavern
Present-Day Firestone Library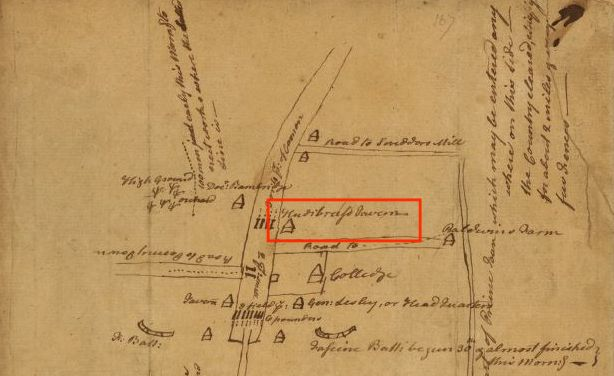 SONG: "THE ADAMS ADMINISTRATION"
BURR Hamilton is out of control. MADISON This is great! He's out of power. He holds no office. And he just destroyed President John Adams, the only other significant member of his party.
Built in 1761 and purchased in 1768 by Colonel Jacob Hyer Sr., the Hudibras Tavern, located on Nassau Street, was one of Princeton's earliest and most popular lodging establishments. Boasting twelve rooms, the Hudibras could accommodate forty people and thirty horses. On August 27, 1774, on their way to a meeting of the Continental Congress in Philadelphia, John Adams (a future political enemy of Alexander Hamilton), Samuel Adams, Thomas Cushing, and Robert Treat Paine stayed at the Hudibras. During this time, John Adams observed the revolutionary spirit of College of New Jersey president John Witherspoon and his students, calling them "Sons of Liberty." John Witherspoon would later become a Signer of the Declaration of Independence, with John Adams. Today, Princeton University's Firestone Library stands in this historic location.
IMAGE: Plan of Princeton, Dec. 31, 1776 [Detail, with Hudibras Inn highlighted]. Library of Congress, Geography and Map Division.
The Barracks
32 Edgehill Street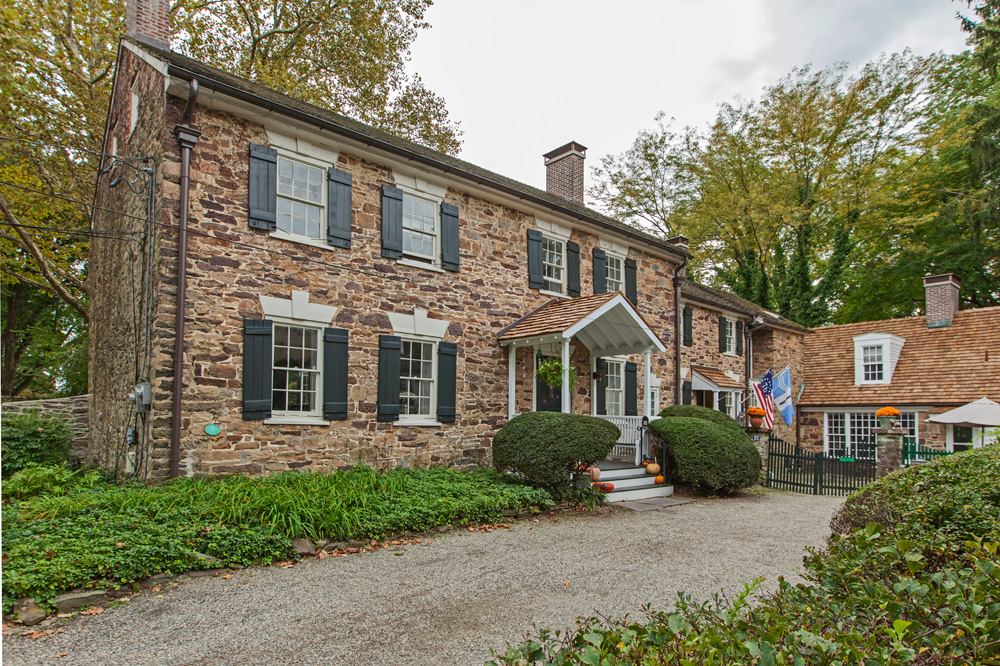 SONG: "WHAT'D I MISS"
JEFFERSON: "But who's waitin' for me when I step in the place? My friend James Madison, red in the face. He grabs my arm and I respond, "What's goin' on?"
MADISON: "Thomas, we are engaged in a battle for our nation's very soul. Can you get us out of the mess we're in?"
Situated at 32 Edgehill Street and built near the end of the 17th century, the Barracks (named for the fact that it was used as a lodging for soldiers during the French and Indian War) is one of the oldest structures in Princeton. In 1783, when Princeton played host to the Continental Congress, the Barracks housed the future political enemies Alexander Hamilton and James Madison.
While there is no evidence that Hamilton had any issues with his stay, Madison, who was used to more lavish comforts, wrote to his good friend Thomas Jefferson to complain about the narrowness of his room, saying the house was "without a single accommodation for writing," and he was "obliged to write in a position that scarcely admits the use of any of my limbs." In response, Jefferson asked Madison "to engage me a tolerable birth" upon his arrival to Princeton– emphasizing that "a room to myself, if it be but a barrack, is indispensable." Underscoring Madison and Jefferson's professional relationship was a very real friendship, which is captured, and sometimes satirized, in the musical.
IMAGE: Photograph by Robert Manella, Callaway Henderson Sotheby's International Realty
Rockingham Historic Site
84 Laurel Avenue, Kingston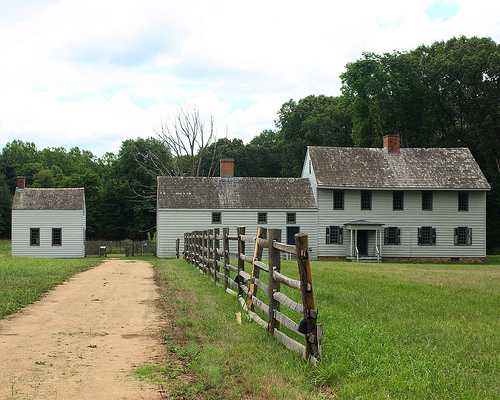 SONG: "RIGHT HAND MAN"
ENSEMBLE: "Here comes the General!"
BURR: "Ladies and gentlemen!"
ENSEMBLE: "Here comes the General!"
BURR: "The moment you've been waiting for!"
ENSEMBLE: "Here comes the General!"
BURR: "The pride of Mount Vernon!"
ENSEMBLE: "Here comes the general!"
BURR: "George Washington!"
George Washington's final wartime headquarters, Rockingham, was built around 1710, and is believed to be the second oldest house in the Millstone River Valley. At the invitation of the Continental Congress, which was then headquartered at nearby Nassau Hall, General George Washington and his wife Martha stayed at Rockingham with their entourage of soldiers, servants, and enslaved people from August 23, 1783 to November 10, 1783.
While at Rockingham, the Washingtons entertained James Madison and Thomas Paine, among other members of Congress, in gatherings at the house. It was at Rockingham that, on October 31, 1783, George Washington received word that the Treaty of Paris had been signed, ending the Revolutionary War. It was also at Rockingham that Washington wrote his Farewell Orders to the Armies of the United States, a document that discharged his troops and announced his retirement to civilian life. While written by Washington on October 30, General Knox delivered the orders to the remaining Continental Army at West Point, New York on November 2.
Morven Museum & Garden
55 Stockton Street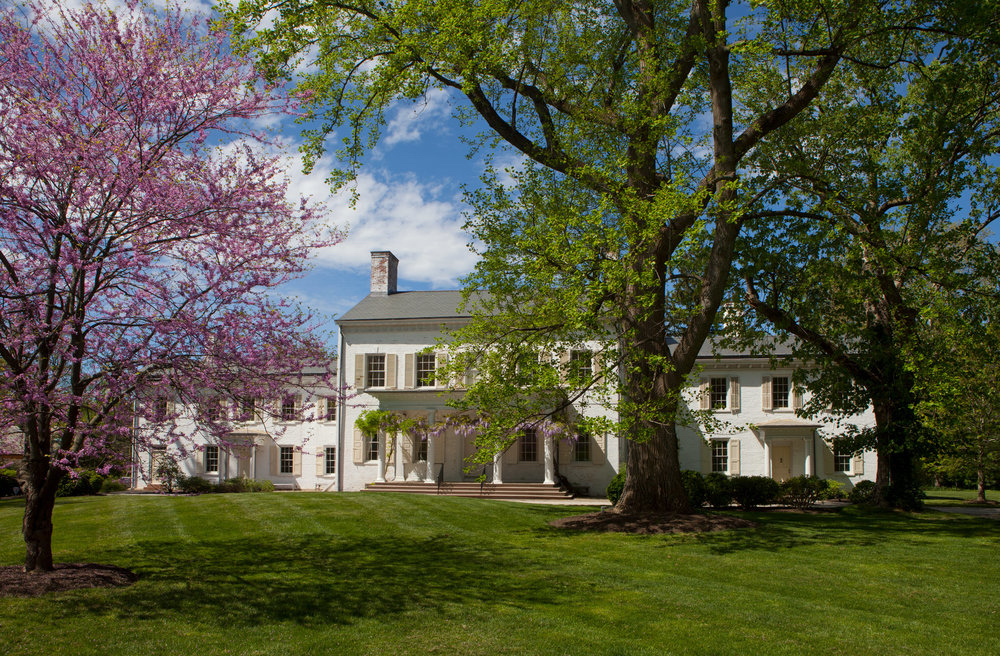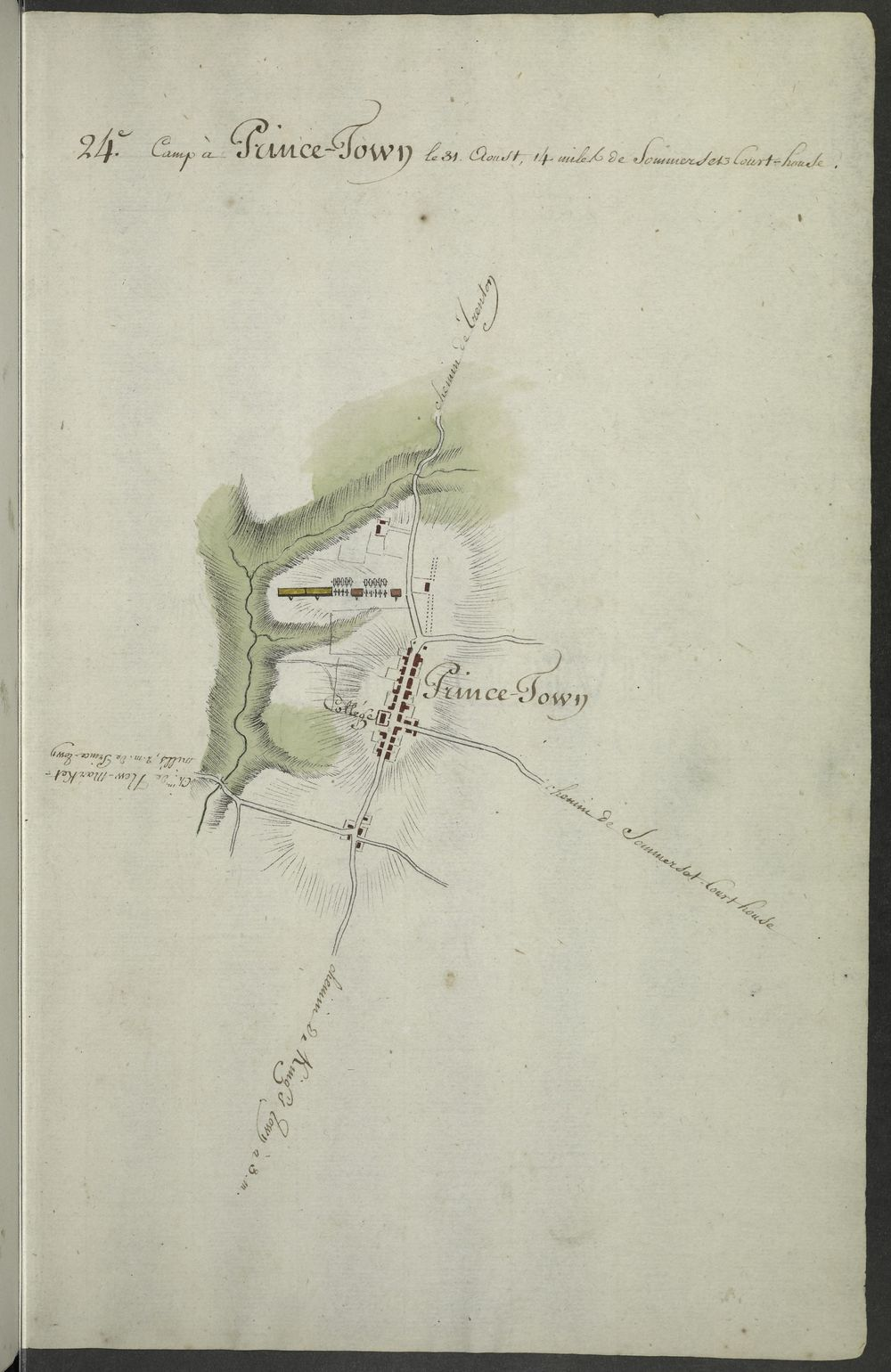 SONG: "GUNS AND SHIPS"
WASHINGTON: "We rendezvous with Rochambeau, consolidate their gifts."
LAFAYETTE: "We can end this war at Yorktown, cut them off at sea, but for this to succeed, there's someone else we need"
France joined the American Revolution on the side of the Continental forces in 1778. Their support, both in finances and in manpower, was critical to the eventual American victory. In July 1780, around 5,500 French troops, under the command of the Comte de Rochambeau, landed in Rhode Island. After staying in the Rhode Island area for less than a year, the French force mobilized and met up with George Washington's army. With the promise of aid from a French fleet under the command of the Count de Grasse, Washington and Rochambeau set their sights on Yorktown, Virginia. They planned to rendezvous with the Marquis de Lafayette and his army of 5,000 men, and cut the main British army off by land and by sea.
Their objective set, Washington and Rochambeau's combined troops began a 14-week, 680 mile march to Yorktown. En route, the armies stayed in Princeton from August 29 to September 1, 1781, with the French making camp across the road from Morven. Upon arriving in Princeton himself, Washington joined Rochambeau for dinner in town at 3 PM on September 1st before the troops continued on to Trenton for the night.
IMAGE: 69. Camp à Prince-town, le 31 Aoust, 14 miles de Sommerset Court-house; Louis-Alexandre Berthier Collection, C0022, Manuscripts Division, Department of Special Collections, Princeton University Library.
Louis-Alexandre Bertheir, a soldier in Rochambeau's army as well as a topographical engineer, created over 100 maps of the routes taken and campsites made by the French army as they traveled to Yorktown. The French camp in Princeton can be seen here west of the college on what is today Stockton Street.
Beatty House
19 Vandeventer Avenue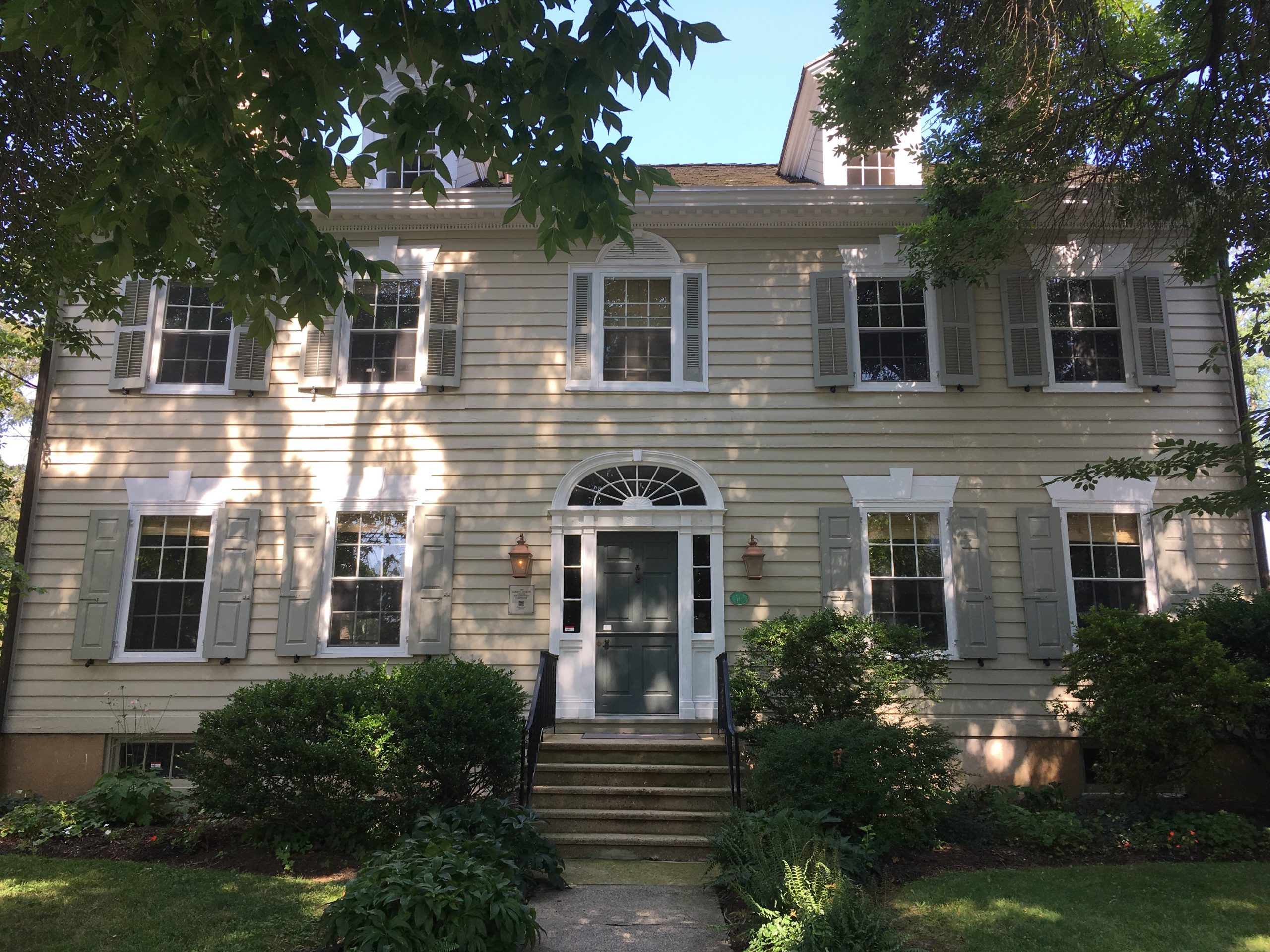 SONG: "AARON BURR, SIR"
LAFAYETTE: "Oui oui, mon ami, je m'appelle Lafayette! The Lancelot of the revolutionary set! I came from afar just to say "Bonsoir!" Tell the King "Casse toi!" Who's the best? C'est moi!"
SONG: "GUNS AND SHIPS"
BURR: "Yo. Turns out we have a secret weapon! An immigrant you know and love who's unafraid to step in! He's constantly confusin', confoundin' the British henchmen. Ev'ryone give it up for America's favorite fighting Frenchman!
COMPANY: "Lafayette!"
Originally located on Nassau Street, opposite Bainbridge House, and built c. 1780, Beatty House (now located at 19 Vandeventer) was the home of Colonel Jacob Hyer, owner of the Hudibras Tavern. In 1816 the house was purchased by Colonel Erkuries Beatty, for whom the house is named.
The French Marquis de Lafayette spent the night at Beatty House on July 15, 1825, during his fifteen month tour of the United States. Although just nineteen years of age when he first came to the United States from France to lend his aid to the American soldiers in 1777, he quickly rose to the rank of Major-General in the Continental Army, and became an integral member of General George Washington's staff. Even during his return visit nearly fifty years later, Lafayette still received a hero's welcome wherever he went.