Date/Time
Date(s) - October 22, 2022
1:30 pm
Location
Marquand Park, starting at Lover's Lane parking lot
46 Lover's Lane
Princeton
Registration is full for this tour. A waiting list is available; in the event of cancellations,
e-mail notifications will be sent in chronological order of sign up.
The Trenton Museum Society and Marquand Park Foundation will present "home and away" tours of two historic landscapes, Cadwalader Park in Trenton on October 15 and Marquand Park in Princeton on October 22.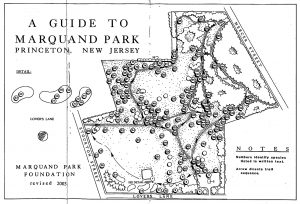 Marquand Park was once part of a 30-acre farm owned by Judge Richard Stockton Field, a founding member of the New Jersey Historical Society and the New Jersey Horticultural Society. Architect John Notman was commissioned to design an Italianate villa and grounds. In 1953, the Marquand family donated seventeen acres of the estate to the municipality of Princeton to serve as an arboretum and passive recreation park. Explore this incredible preserve with members of the Marquand Park Foundation, who will share the property's history and highlight the native and exotic trees in the collection.
Free; advanced registration is required, as space is limited. Starts at the Lover's Lane parking lot.
Additional parking is available on Mercer Street. Wear comfortable walking shoes.
In the event of severe weather, rain date will be Sunday, Oct. 23 at 1:30 PM.
Bookings
This event is fully booked.