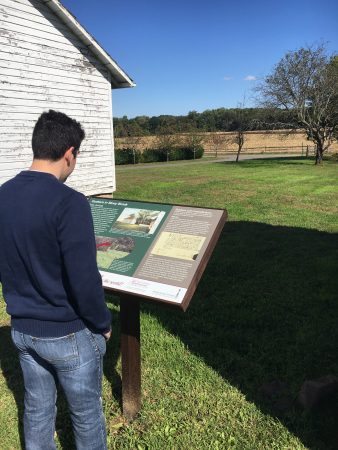 The Historical Society of Princeton recently installed six pieces of interpretive signage at their Updike Farmstead headquarters on Quaker Road. The signs, spread widely throughout the six-acre site, are dubbed the "Farmstead History Trail."
"We're thrilled to install this interpretive signage, which contextualizes Updike Farmstead in broader local, regional, and national context," said Izzy Kasdin, Executive Director of the Historical Society of Princeton. "The signs will undoubtedly create a richer heritage experience for visitors who come to the Farmstead."
The signage links buildings and physical markers in the landscape with historical photos, documents, and artifacts. Interpreting the lives of Lenni Lenape Native Americans, Quaker settlers, Continental soldiers, family farmers, and other residents of the Stony Brook region, the signs encourage visitors to wander and explore the expansive grounds of the Updike Farmstead site, one of the last remaining historic farms in Princeton.
"We're particularly proud of the way each sign connects a local history moment with enduring issues relevant to our visitors' lives and communities," said Stephanie Schwartz, HSP's Curator of Collections and Research. "Each sign concludes with what we refer to as a 'big question,' which we hope will spark conversation about religious belief, development, economic change, war, and other important topics."
Pennington graphic designer Kim Waters of Zoe Graphics designed the signage panels and Leigh Visual Imaging fabricated the signs. Funding for the design and fabrication of the signage was provided by a project grant from the New Jersey Historical Commission, a division of the Department of State.
The signage was developed with the support of the Princeton Municipal Historic Preservation Commission and the State Historic Preservation Office, and in consultation with representatives of the Nanticoke-Lenni Lenape Tribal Nation, the Princeton Friends Meeting, and the Princeton Battlefield Society.
The Updike Farmstead museum is open Wednesday through Sunday, from 12 pm to 4 pm, and Thursdays from 12 pm to 7 pm.