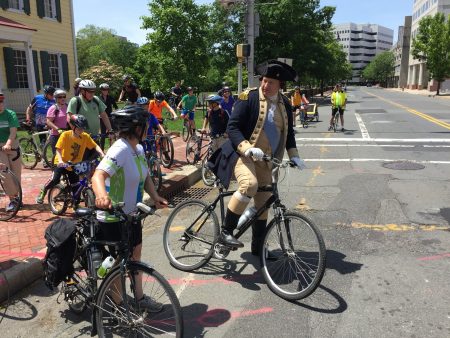 Princeton's 4th annual Ciclovia was held on Sunday, May 21, 2017. This free annual event promotes healthy, active living by closing Quaker Road to vehicles and opening it for people to exercise, play, and learn. Families can run, walk, skate, and ride bikes along the route.
New this year was Chasing George, a 10-mile bike ride along the D&R Canal State Park path, in the spirit of the route Washington took the morning of January 3, 1777 to fight in what became the Battle of Princeton. Participants departed the Douglass House at Mill Hill Park in Trenton, and followed a George Washington reenactor to Quaker Road in Princeton along the D&R Canal State Park trail. Historical talks by Jeff Laurenti and Roger Williams anchored the start and end of the ride.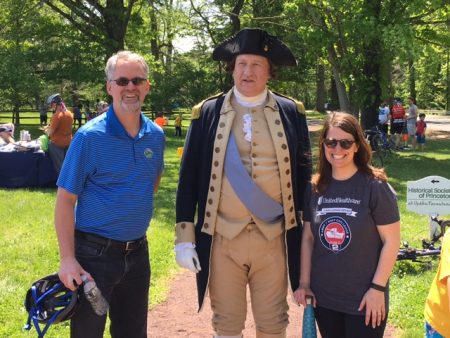 In addition, a longer 40-mile Chasing George All Around bike ride, organized by the Princeton Free Wheelers Bicycle Club and Greater Mercer TMA, started at REI and included historical talks at Lawrenceville, Pennington and Washington Crossing State Park, courtesy of Paul Larsen of the Lawrence Historical Society and Larry Kidder of the Hopewell Valley Historical Society.
This was a true community event, made possible by the Historical Society of Princeton, Princeton Bicycle Advisory Committee, Greater Mercer TMA, East Coast Greenway, Princeton Freewheelers, Princeton Battlefield Society, Crossroads of the American Revolution, and Washington Crossing Historic Park. Business partners were Hart's Cyclery and REI.