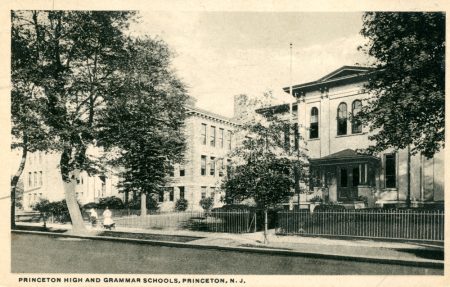 The Historical Society of Princeton (HSP), in partnership with Princeton Public Schools (PPS), has launched a new digital tour tracing the history of public education in Princeton. Using photographs and historical documents, Princeton's Public Schools: A History tells the story of twenty-one public schools (dating from the 1830s to the present) and documents how public schools remain integral community institutions. The tour is available on the Historical Society's website and through HSP's mobile app.
Princeton's Public Schools draws on – and makes digitally accessible – materials and research collected for 150+ Years of Princeton Public Schools, a 2009 exhibition at Princeton High School's Numina Gallery. Curated by Lisa Paine, Charlotte Bialek, and a team of dedicated volunteers, 150+ pooled resources from Princeton Public Schools, the Historical Society of Princeton, Princeton Public Library, and Princeton University Libraries to illustrate the municipality's long and rich history of public education.
"When I started volunteering for the Princeton Public Schools. I did research at the HSP archives and learned that Princeton's school system was over 150 years old," Paine remembers, "The materials in HSP's collection and in the Princeton Public School archives documenting that long history inspired me to develop the 2009 exhibition."
After PPS Assistant Superintendent Robert Ginsberg approached Paine and Bialek about revisiting the 2009 exhibition, a revised wall display was mounted at PPS's Valley Road administrative building in summer 2021. Building restrictions due to COVID-19 continued to limit viewership, however, and PPS began working with HSP to convert the exhibition into a more-accessible digital tour. PPS also gifted the archival material and research gathered while curating the initial 2009 exhibition to HSP, where it will be preserved and made available to researchers.
"HSP is thrilled to present Princeton's Public Schools alongside our existing digital tours," says Stephanie Schwartz, HSP Curator of Collections and Research. "As many of the families who saw the original 2009 exhibition have graduated from the school system, it's the perfect time to bring these stories to a new and larger audience."